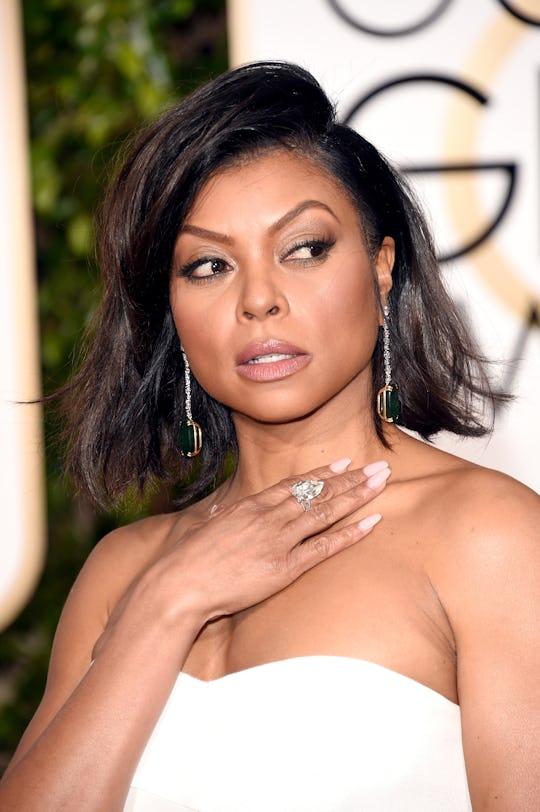 What Did Taraji P. Henson Hand Out At The Golden Globes? The 'Empire' Actror Gave Out Symbolic Sweets
When Sophia Bush and Kate Bosworth announced that the 2016 Golden Globe for Best Actress in a TV series goes to Taraji P. Henson for Empire, the FOX actor was ready. On her way up to accept her award, Henson handed little treats to her fellow entertainers. Exactly what was Henson giving out at the Golden Globes? If you're a fan of the epically popular Empire, you'll have no trouble guessing. Henson, who plays Cookie, handed out cookies to the audience members she passed.
Clearly, sitting next to Henson paid off. Who doesn't love a free cookie? No one, that's who. And that includes Leonardo DiCaprio. The man already made waves tonight for hugging Kate Winslet, and now he gets a cookie? Almost makes up for that lack of an Oscar.
When Henson got on stage, she announced, "Cookies for everyone!" and her acceptance speech gave a shout out to her character Cookie, who spent 17 years in prison, who is a "real" character who people love.
She's not at all wrong about that. Empire is a national sensation. In its second season, the FOX drama has lured such A-list guest stars as Marisa Tomei, Chris Rock, Lenny Kravitz, and Alicia Keys.
It's no wonder she was prepared to hand out cookies.
These lucky ducks got the sugar:
Leo loves it:
Cookie gets that trophy:
Congratulations, Henson! Just, hope you have some extras:
It's official: It's so much fun to watch her do literally anything.
Image: Jason Merritt/Getty Images