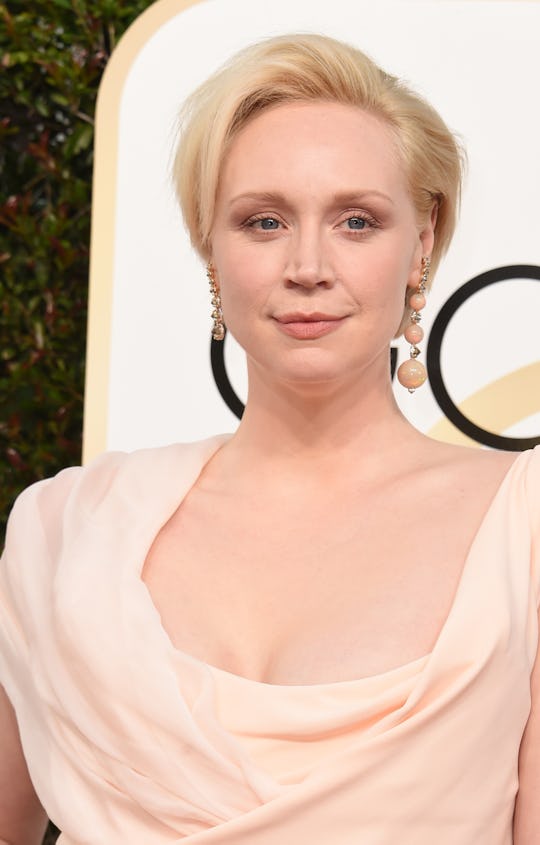 VALERIE MACON/AFP/Getty Images
All Of The 'GoT' Cast's Globes Red-Carpet Looks
Game of Thrones is nominated for two awards at the 2017 Golden Globes, including Best Television Series, Drama. The other nod is for Lena Headey in the Best Performance by an Actress in a Supporting Role in a Series, Limited Series, or Motion Picture Made for Television category. So what did the Game of Thrones cast wear to the Golden Globes? Gwendoline Christie was among the first to arrive on the red carpet and she set a great tone for the cast.
Game of Thrones' sixth season was one of its strongest (not to mention darkest) yet, between the resurrection of Jon Snow, the Battle of the Bastards, and Queen Cersei's fiery ascent to the Iron Throne. After burning everyone of import in King's Landing to a crisp during the Season 6 finale, Cersei sealed the prophecy dooming her three children to death when her last remaining son, King Tommen committed suicide. She officially has nothing left to live for, except for herself, her crown, and Jaime, which only makes her an even more terrifying force. It's hard to believe Headey had an even more emotionally gripping season ahead of her after Cersei's Season 5 walk of shame, but it's no surprise that she was the only actor from the show to secure herself a Globe nom this season.
Meanwhile, on the red carpet, Gwendoline Christie appeared wearing a gown that was very similar to her 2015 Emmys look:
Sophie Turner decided to cover up the inner arm tat she debuted at the 2016 Emmys and opted instead for a gown that showed off her mile-long legs:
If anyone deserves to wear a tiara, it's literal queen Maisie Williams, who is pulling off one of the most popular colors of the night: canary yellow:
And, of course, Nikolaj Coster-Waldau is making sure the men of GoTs look just as ravishing in this simple, classic tuxedo:
Emilia Clarke channeled Cersei's Dark Mutter look from the finale in her dramatic, high-necked black gown.
That was actually the closest we got to a visual on Lena Headey, since she didn't seem to attend the Golden Globes this year, even though she was nominated. She lost out in her category to Olivia Colman, who won for her breathtaking role as pregnant British intelligence officer Angela Burr on The Night Manager. Sadly, Game of Thrones also came up empty-handed in the Best Television Drama category, losing out to Netflix's The Crown.