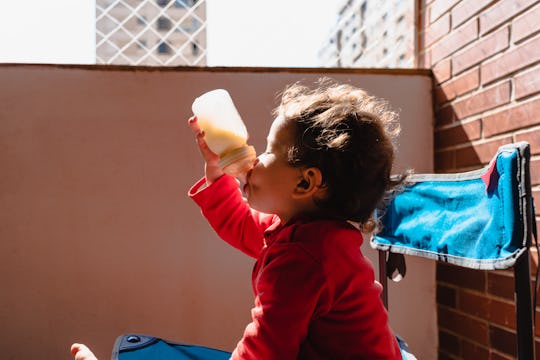 Joaquin Corbalan / EyeEm/EyeEm/Getty Images
What Different Colors In Your Breast Milk Mean — Plus The 6 Most Common Colors
As strange as it sounds, noticing a "rainbow" of colors when you pump or examine your breast milk is totally normal. Aside from staring at your nutritional artwork in awe, knowing what different colors in your breast milk mean can be helpful as you examine your diet or just simply want to understand why in the world your milk isn't purely white. Though your milk won't be a literal rainbow, it's not uncommon for it to be tinged with different colors like blue, green, or even pink.
"Milk comes in a wide variety of colors and we are really only aware of the color when we see it pumped," registered nurse and lactation consultant Deborah Dominici of Babies Breast Friend in Honolulu tells Romper. "Our babies drink our rainbows of milk everyday."
Obviously, the food you eat can have an impact on the contents of your breast milk. And, as it turns out, your food intake impacts the color of it as well. The majority of the colors your milk may turn will be dictated by what foods your diet is rich in, according to La Leche League International (LLLI). This doesn't mean anything is wrong with your diet or your breast milk, and, in the vast majority of cases, noticing an odd tinge in color to your milk is nothing to worry about.
Sometimes, your milk will be colored by other things besides food, but even then, it's usually harmless. So, pump and nurse on, knowing that your breast milk's color can be just as unique as the baby you're feeding it to.
This article was originally published on