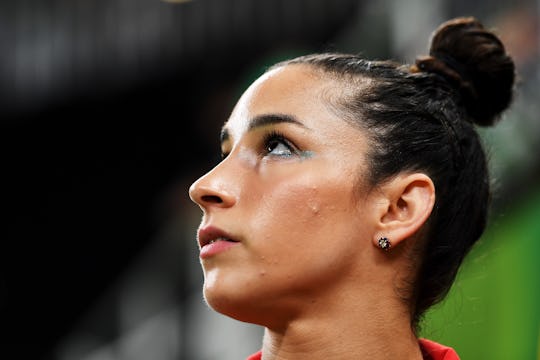 Laurence Griffiths/Getty Images Sport/Getty Images
What Do Aly Raisman's Parents Do? They're In It For Their Girl
Imagine what it must be like, watching your daughter compete in the Olympics as a gymnast. When the slight turn of an ankle or a tiny, almost imperceptible falter could mean the difference between a medal or the end of years of hard work for her (maybe even the end of her life). I used to sweat buckets when it was my son's turn to play goal tender in soccer (the pressure!), so I can't imagine how Olympic parents must feel. Aly Raisman's parents have become internet sensations for their gut-wrenching (and I'm sorry, but sort-of-hilarious) reactions from the sidelines. Why does the internet love them so much? Because they are all of us, watching our kids in the spotlight and feeling all the feels.
Lynn and Rick Raisman are clearly proud of their daughter, and why wouldn't they be? Their daughter just helped the U.S. Women's Gymnastics team win gold at the 2016 Rio Olympics. She also won a gold in the floor competition and bronze in the balance beam at the London 2012 Olympics. So nothing to sniff at, right? But the Raismans have been sort of stealing the spotlight from their amazing daughter with their sideline antics; Lynn Raisman in particular almost looks like she's competing for an event herself.
The Raismans brought up their children (along with Aly, they have kids Brett, Chloe, and Madison) in Needham, Massachusetts, where they are co-owners of Bar Insurance. Luckily they don't have to ask the boss for time off to go have mini anxiety attacks on the sidelines at the Olympics.
Lynn Raisman told People all about her sideline nerves while watching her daughter perform.
I get nervous because I know what goes into it and how many hours she's prepared and how hard she is on herself, and I want her to be happy and go out there and do the best performance she can do. So when it's over, she is happy no matter the results, so I do get nervous. But whatever she was doing I want her to have the best outcome.
Lynn Raisman might understand a little something of what her daughter is going through; she's a former gymnast herself. Although she told People she had no idea her daughter would eventually become a world champion gymnast when she signed her up for classes at age 2.
The mother of four told People, "People say, 'Oh, did you know? Did you expect this?' But it was just something to do with a toddler, there was no plan."
And now Lynn Raisman can just sit back, relax, and watch the fruits of her daughter's labor unfold before her.
Or get whiplash during the uneven bars routine. Either way.