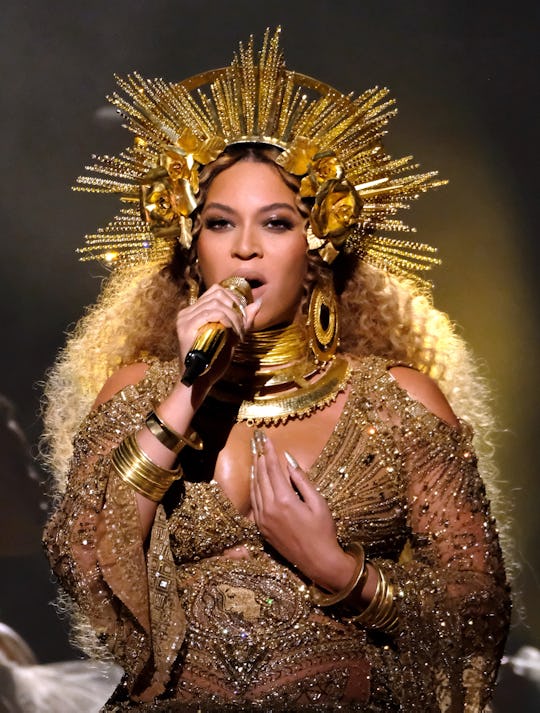 Larry Busacca/Getty Images Entertainment/Getty Images
Beyonce's Twins Names Have Been Released & Their Meanings Are Everything
After Beyoncé broke the internet with her pregnancy announcement in February, there was no doubt that the birth of her twins would do the same. When Beyoncé announced Blue Ivy's name, fans lost it — so multiply that by two and you are probably wondering yourself: what do Beyonce's twins' names mean? According to TMZ, Beyoncé and husband JAY-Z have named their newly arrived twins Rumi and Sir Carter, so get ready for "Rumi" and "Sir" to be the most Googled names on the planet.
If Beyoncé's pregnancy announcement is any indication — a beautiful Instagram post of the world-renowned singer/songwriter/actress riddled with tiny clues and hidden meanings — there is sure to be deeper connotations to the names Bey and her husband have decided to give their blessed arrivals. According to BabyCenter, Rumi is a popular boy's name (although a name is genderless, and outdated gender stereotypes and norms are for the birds). In fact, the site goes on to say the name could be used for both a boy or a girl (like all names) so Rumi isn't going to give fans an idea of the sex of either one of Beyoncé's twins.
According to numerous name sites on the wonderful world of the internet, Rumi is associated with a number of historical personages born in or associated with Anatolia. It's also a word "borrowed" from Arabic that literally means "Roman." Rumi is also the last name of a prominent 13th-Century Persian poet, Jalaluddin Rumi. Coldplay frontman Chris Martin reportedly read a collection of Rumi's poetry while going through his divorce from actress Gwenyth Paltrow, according to The New Yorker. Rumi has also "helped the spiritual journeys of other celebrities," including Madonna and Tilda Swinton, who have reportedly incorporated Rumi's work into their own.
Nameberry.com, however, claims Rumi means "beauty," and the origin of the name is Japanese. Of course, as with any details involving the most famous set of twins on the face of the planet (sorry Mary-Kate and Ashley) fans will have to wait to hear it from the parents themselves as to what the name Rumi means to them, and why they chose it for one of their little ones.
Sir, on the other hand, may have a more clear-cut meaning that fans can hold onto as they cling to any additional information surrounding the family of five. According to Behind The Name, Sir is the Catalan form of Syrus (or Cyrus). Nameberry.com notes that Cyrus means "throne," so, of course, and to no one's surprise, we're literally talking about royalty here.
While the names Rumi and Sir are sure to be debated and analyzed and discussed for days, weeks, months, and even years to come, one thing is for sure: the pair can call two ridiculously talented and creative people their parents, so they've already won life's lottery.