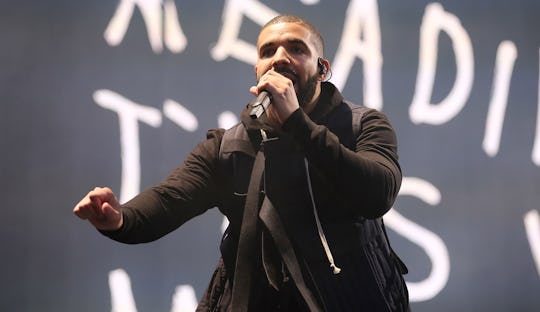 Tim P. Whitby/Getty Images Entertainment/Getty Images
What Do Drake's 'Keep The Family Close' Lyrics Mean? The Song Is All About Betrayal
Drake dropped Views less than a week ago, but fans are already doing their second passes through the album, listening more carefully to the songs' lyrics and trying to decipher any hidden meanings behind them. With 20 songs in the roster, it's no easy feat, but fans can get through it one song at a time. So, if we're looking at the first song on the album, what do Drake's "Keep the Family Close" lyrics mean? It's a good one to start with, because Drake's getting introspective, so it's easy to dive deep.
The song has a couple of overarching themes to it, and two of them are present throughout the entire album, so let's get them out of the way. Drake has already made his love for his home city of Toronto clear in many songs, and "Keep the Family Close" is no exception. He gives Scarborough's Kennedy Road a shout-out, singing, "You're so predictable I hate people like you / Kennedy Road taught me not to trust people like you." (If you're not from the area, Inverse explains that Kennedy Road is "notoriously dangerous" and "requires serious street smarts to navigate.")
He also keeps with the album's theme of seasons in Toronto. The first line of the song (and of the album), starts with, "It's a little chilly out there / How you can stand there is beyond me." By opening with winter, Drake solidifies the album's theme and lets listeners know this won't be a cheery, upbeat song.
The rest of the song references Drake's past relationships and his laments at not keeping in touch with his family. "All of my 'let's just be friends' are friends I don't have anymore," he sings. "Guess that's what they say you need family for / Cause I can't depend on you anymore." I mean, oof. He further references friends' and exes' betrayals later in the song, with lyrics like:
You're supposed to put your pride aside and ride for me / Guess it wasn't timeAnd of course you went and chose a side that wasn't mine ... If I ever loved ya, I'll always love ya, that's how I was raised.
Drake hasn't spoken about who he's referring to, but the Toronto rapper has been embroiled in a few feuds in his day. He's reportedly cast ex-girlfriend Rihanna as the devil on stage in the past — although they seem to be getting along just fine these days — and ex-girlfriend Nicki Minaj has said that she hates the beef between Drake and Meek Mill, saying, "You don't ever want to choose sides between people you love."
Whatever may have prompted the song, the meaning behind "Keep Your Family Close" is pretty straightforward — and it will definitely make you want to phone your parents if it's been a while.