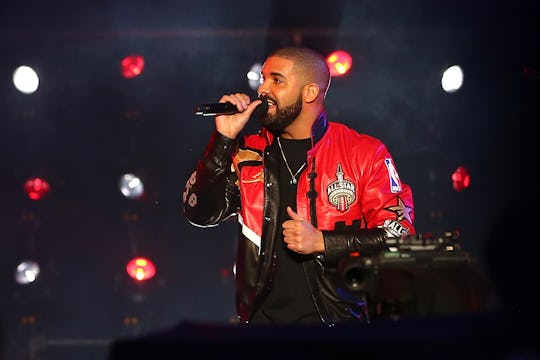 Elsa/Getty Images Sport/Getty Images
What Do Drake's 'Pop Style' Lyrics Mean? The Song Is Definitely Sending A Message
While everyone waits for Drake's new album, Views From The 6, to drop, the Canadian rapper continues to dole out just enough songs to keep everyone on the edge of their seats. His latest two singles, "One Dance" and "Pop Style" were released on Tuesday and fans took to social media to share their thoughts. Drake's catchy "Pop Style" in particular, which features Kanye West and Jay Z as "The Throne" (a modest nickname if ever there was one), is already getting loads of attention. But what do Drake's "Pop Style" lyrics mean?
The lyrics are at once oddly personal ("Tell my mom I love her if I do not make it") and frustrated ("All I do is hang with the young and heartless"). "Pop Style" is nothing like Drake's wildly popular, easy-breezy fun hit "Hotline Bling" from 2015. The song is moodier, the pace slower, and the lyrics hit a reflective note that sort of suits Drake. He makes the requisite pop culture references ("Got so many chains they call me Chaining Tatum", and "Girl let me rock, rock, rock, rock, rock your body Justin Timberlake and then I hit the highway"), and despite the fact the song is called "Pop Style", the style of the song is really anything but pop. It's edgier than anything we've heard yet from Drake.
According to columnist Denise Clark (Jamaicans.com), "Pop style" is Jamaican slang for showing off, generally "in the presence of haters." Drake's latest single seems to definitely be all about that phenomenon too, with lyrics like "[All they] wanna do is pop style, pop style / Turn my birthday into a lifestyle" and "They still out to get me cause they never got me" pretty much throwing down the gauntlet, challenging those who think he'll fail and those who simply want to ride his coattails to the next big party. And in case you were still unconvinced, "I like to finish what you think you started / Man you boys just got to Hollywood, you boys just started" and "All this is for my family, man, I try my hardest" should change your mind.
So just how are fans feeling about this latest single? Obviously when you have the high wattage trio of Drake, Jay Z, and Kanye West, it was only a matter of time before "Pop Style" got all sorts of attention:
With this new song, Drake has hit a new level, one where he can sing about how difficult and frustrating it is to be famous, and fans will just nod along in agreement, because they've all been there at some point in their lives.
"Pop Style" and Drake's other single, "One Dance", are already taking up the top two spots on the Billboard as well as the Twitter Trending 140 Chart. Drake and "The Throne" probably could have simply phoned it in and had a hit, to be honest. But to Drake's credit, "Pop Style" is solid in every way. Like it or not, "Pop Style" is probably going to be playing in the background of every party for at least the foreseeable future.... Or at least until Drake releases his next song.