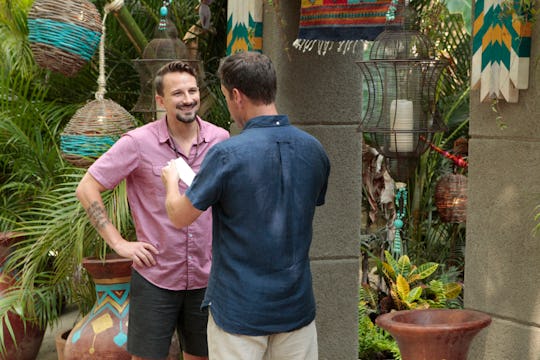 Rick Rowell/ABC
What Do Evan's Kids Think Of 'Bachelor In Paradise'? Evan Keeps Them Out Of The Spotlight
One of the most polarizing contestants on JoJo Fletcher's season of The Bachelorette was erectile dysfunction specialist Evan Bass. He never made much of a connection with JoJo – instead getting caught up in a shirt-ripping feud with the season villain Chad Johnson – but it seems like Bachelor nation viewers either loved Evan or hated him. There was really no in between. Now having moved on over to the spin-off Bachelor in Paradise, Evan continues to be a contestant that viewers love-to-hate (or just hate). But what do Evan's kids think of Bachelor in Paradise?
Evan is a single father with three kids while juggling "running a chain of clinics" for his erectile dysfunction biz, according to Chris Harrison's comments to Yahoo prior to the start of JoJo's season. He is also clearly extremely protective – while many parents love to post adorable pics of their kids on any and every social media channel, Evan chooses not to. It's unclear whether he just deleted pictures of his children prior to his time on The Bachelorette, or if he was always of the view that his kids should remain off of his social media, since his Instagram account does stretch all the way back to September 2012. Interestingly, he's never been shy about posting pics of his adorable lil' nephew, Max.
Overall, keeping his kids off of social media was probably a good call, given that the children might be easily identifiable via the photos and where Evan lives – and that he probably wanted to avoid their getting harassed in light of Evan's not-entirely-likable persona while on the show.
Of course, Evan's tendency to keep his kids off of social media and not really talk about them (or even mention their names) all season means that we have no clue what their perspective is on their dad participating in these reality dating shows. I can only assume that whoever watched the kids while Evan was looking for love in Paradise was under strict instructions not to let the boys watch The Bachelorette, which was airing its last few episodes while Paradise was filming.
Or maybe I'm totally wrong and Evan just explained to his kids the magic of producer-edited reality TV footage. I mean, he's been pretty vocal and chill about not taking the show too seriously all over his Twitter.
He's also joked about teaching his kids that it's cool to be an "awkward child," after a viewer called him that... which actually does suggest that maybe they are watching the show together as a family (but taking it all with a huge grain of salt).
Regardless, in a photo shared to his Instagram a few weeks back, Evan's lookalike kiddos (hanging out with their dad's fellow Bachelorette 12 suitors and fan faves James Taylor and Wells Adams, no less!) looked perfectly fine. So whatever they've seen of their dad on The Bachelorette or Bachelor in Paradise, they're probably not taking it to heart. Hopefully.
And on the bright side, there is one woman who is very much into Evan.
Kids, meet your new potential step-mom, Academy Award-winning screenwriter Diablo Cody.