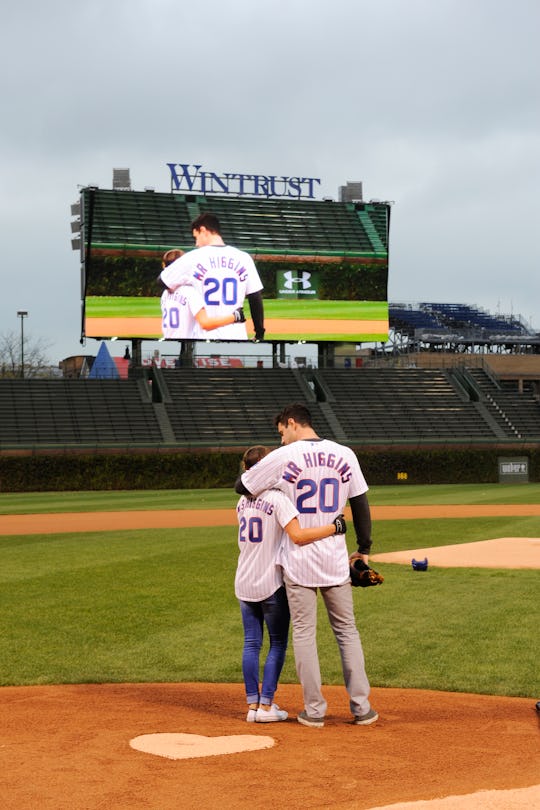 Jean Whiteside/Disney ABC Television Group/Getty Images
What Do JoJo's Brothers Think Of Ben? They Aren't Too Fond Of 'The Bachelor', It Seems
It looks like JoJo Fletcher has made it to the final four, guys. Now that everyone's favorite bachelorette (was that just a spoiler? An omen?) has opened up to Bachelor Ben (and had dinner and wine in the Wrigley Park outfield, no less), we can expect things to really heat up. And with the promise of this next week's hometown visits (plus a thrilling promo shot of some family drama), everyone's wondering whether or not JoJo will get the final rose — and more importantly, how JoJo's seemingly protective brothers feel about Ben too.
If the previews are to be believed, it's not looking too good for Ben in terms of getting any bro love from JoJo's macho siblings. (And after Ben pressured JoJo into being vulnerable for so long, can you blame them? Yikes.) A sneak peak at next week's episode proved that neither one of them seem too enthusiastic to welcome the small town slickster into the family with open arms — which is a little weird since JoJo's own brother Ben Stanton was a TV bachelor himself. So he must know a little bit about the way things work, right? Or wait, maybe that's the problem. Maybe it's a case of "been there, done that, not for my little sister."
In the preview Brother Ben can be heard saying to Bachelor Ben, "She deserves better." While her other brother Martin chimes in with, "You're brainwashing these girls too much. You need to take a step back." Which seems to have JoJo dissolving into tears and Bachelor Ben taking off in a huff.
So people are super worried JoJo's brothers are going to "ruin it" for her, eh? No. I'm sorry, but no. Her brothers should be asking him tough questions, y'all. That's what brothers do. Especially brothers who know their sister's man is into a bunch of other girls. Yes, it's the process. Yes, they knew what they signed up for. Yes, it makes for great television. But between Ben pressuring JoJo into being super vulnerable (so the potential heartbreak can be more moving for us viewers) and crying when they call him out, I having a difficult time loving Ben these days too.
The good news is, it looks like we've got an interesting episode of The Bachelor in store for us on Feb. 22 (it doesn't hurt that JoJo's brothers are easy on the eyes either). Shots of Ben frolicking with Amanda's two little girls so we can all feel our ovaries drop and swoon in ecstasy, Caila being all warm and fuzzy just before (I think) Ben drops the sonic boom.... And then JoJo's brothers schooling Ben on how to treat a lady.
Aw yeah. It's gonna be a great final few weeks on The Bachelor.