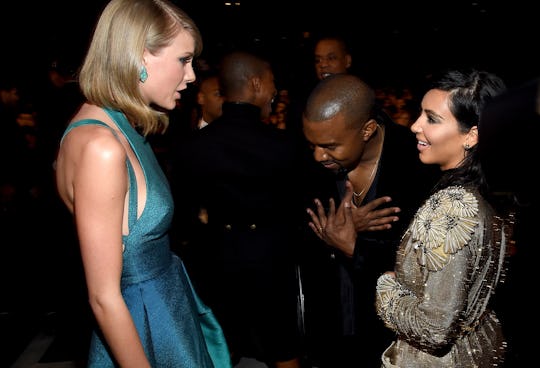 Larry Busacca/Getty Images Entertainment/Getty Images
What Do Kim & Kanye Think About "I Did Something Bad"?
With Taylor Swift's much-anticipated album Reputation dropping in the midnight hour of Nov. 10, the internet is already abuzz with fan theories and speculations. It's well known that Swift takes inspiration from her own life (mainly her own feuds and her own exes) when she writes, which is why almost every lyric is analyzed as if this is The Da Vinci Code. One feud in particular, Swift's relationship with Kanye West and Kim Kardashian West, won't seem to quit, especially with the song "I Did Something Bad." So what do Kim and Kanye think about "I Did Something Bad"? Fans are mega curious.
At the time of publication, neither of the Wests have publicly responded to Swift's album or specifically "I Did Something Bad," but that doesn't mean they don't have ~thoughts~. According to Us Weekly, when Swift dropped "Look What You Made Me Do" earlier this year, a song with direct ties to her feud with Kanye and Kim, the power couple didn't respond. But sources told Us Weekly that the two were "not concerned" and had moved on from the feud. In fact, they were ready for Swift to move on, too.
I know — the entire world is kind of over this feud. So how can fans be so sure that Swift's "I Did Something Bad" actually references Kim and Kanye? For starters, the title of the song pretty much directly speaks on Kanye's "Famous" track, the song that reignited his feud with Swift back in 2016. While Swift publicly spoke about the "I made that bitch famous" line, discord was brewing with the Wests as they insisted that Swift gave permission for Kanye to use that line, according to E! News. It didn't take long for Kim to share the phone conversation, which she had filmed, on Snapchat, attempting to turn Swift into a liar and a snake. So is "I Did Something Bad" a title referencing that Swift's argument that she never heard the lyric before "Famous" was released? Did she do something bad? Did she lie and try to turn the entire song into something it wasn't?
But the references don't stop there. According to Cosmopolitan, there are a few references to Kim and Kanye. She sings about a narcissist, she sings about a man talking sh*t, she sings about burning witches even if you aren't one, and she sings about if a man drops her name she doesn't owe him sh*t. I mean, c'mon.
While everyone (meaning the media) loves a good feud, I think it's safe to assume that Kim and Kanye won't be speaking out about this latest potential diss from Swift anytime soon. While I don't really choose sides in this story, it seems obvious that the only reason the Wests got involved in a "feud" with Swift was to clear Kanye's name and to make sure no one thought he was just a big bully to the poor little pop star. Their silence in the weeks after Swift released "Look What You Made Me Do" proves that, unlike Swift, the West family truly wants to be "excluded from the narrative."
Or maybe Swift just wants to sell records? I mean, the woman is a bonafide media mogul — she pretty much knows exactly what to say and do and a lot of her confidence, one could argue, is because there's not a lot of pushback from those she sings about. It's easy to assume that Kim and Kanye won't have a lot to say about "I Did Something Bad," but that doesn't mean Kanye won't release a new track or album in response. And you know what — I'm ready for the analyzing.