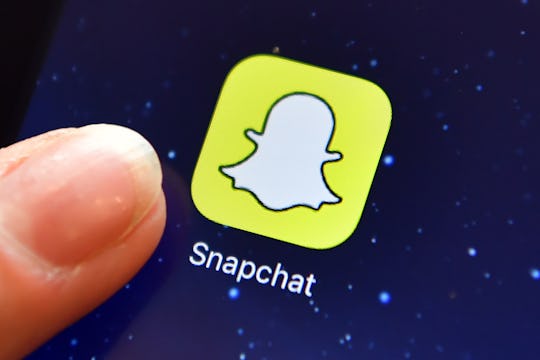 Carl Court/Getty Images News/Getty Images
What Do Snapchat Employees Think Of Instagram Stories? Their Reactions Are Hilarious
When Instagram updated the app on Tuesday, users were surprised to see a familiar but new feature — Instagram Stories — which had a striking resemblance to another beloved app, Snapchat. Users reactions to the app were interesting to say the least — but not as interesting as the reactions of Snapchat employees themselves. If people have been wondering what Snapchat employees think of Instagram Stories, they should know that the reactions are pretty snippy to say the least.
From the get-go, users of both apps were highly skeptical that Instagram had copied Snapchat — as Instagram Stories features bore a striking resemblance to Snapchat's features. Instagram Stories feature the option to take instant photos that last on users accounts for 24 hours and host the ability to write and draw on the photos — something Snapchat has been doing since the app's beginning. Even Instagram CEO Kevin Systrom knows that the apps looked very similar, telling Tech Crunch that "they [Snapchat] deserves all the credit." But, he also added on a very good point telling the website, "this isn't about who invented something. This is about a format and how you take it to a network and put your own spin on it."
However, Snapchat employees had their own thoughts about Instagram's new update, taking to Twitter to share their thoughts:
Product designer for Snapchat, Jack Brody expressed his distaste for the update on his Twitter, suggesting Instagram users delete their accounts and just use Snapchat for stories instead. A fair suggestion, depending on who you ask.
Another Snapchat employee, Tobias McGuigan opted for a more sarcastic approach to Instagram's new announcement, instead congratulating Instagram on their innovation. But hey, a congratulations is still a congratulations.
Perhaps most critical of Instagram Stories were the users of both apps — who also took to Twitter to point out the similarities between both apps (which were pretty hilarious, to say the least). Whatever your thoughts may be on both apps, it is important to give credit where credit is due, like Systrom did this week. It should be interesting to see how future Snapchat updates respond to Instagram's changes in the future.
Snapchat's founder, however, Evan Spiegel was silent on Twitter (which he has been, since he made his account). I can only imagine the thoughts running through the heads of Snapchat employees and their reactions on Twitter give just a glimpse into what they're thinking. Whether people like it or not, Instagram Stories are here to stay — hopefully users of both apps can find a happy medium and continue to use both.