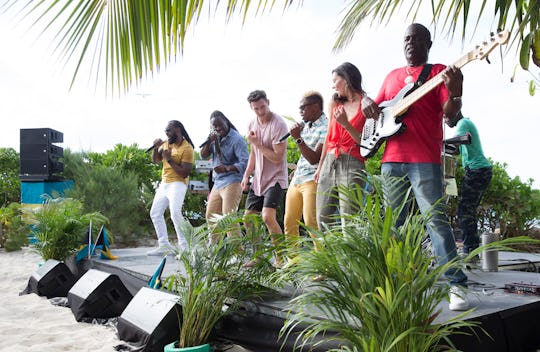 Paul Hebert/ABC
The Baha Men Are Singing This Hit 'The Bachelorette'
Becca Kufrin seems to making some serious romantic connections on this season of the Bachelorette, and fans couldn't be happier. But on Monday, along with all the drama and romance, Bachelorette fans will be getting a musical blast from the past with a performance from the Baha Men. If the band name sounds familiar, but you can't exactly place where you've heard them, you might be wondering: what do the Baha Men sing? They've got one song in particular that's become an iconic party anthem.
The Bachelorette is going to the Bahamas this week, so it's no wonder they chose the Bahamian band to perform for Becca and her guys. While the Baha Men's celebrity status may have been short lived, their wildly popular song, "Who Let The Dogs Out?" is still alive today. After being released in 2000, the sing-along anthem took over the world, topping global charts and it even went on to receive a Grammy Award for Best Dance Recording in 2001. Since then, "Who Let The Dogs Out?" snuck its way into popular culture, popping up in numerous blockbuster films including Men In Black II, The Hangover, and Shrek, and it has turned into a stadium anthem that helps energize crowds at sporting and entertainment events.
Although their popularity rose with "Who Let The Dogs Out?", The Baha Men were actually pretty famous in the Caribbean before that. They have been performing together since 1980, at the time calling themselves High Voltage, but changed their name to the Baha Men in 1991 when they were signed on by Big Beat Records in 1991. Their sound is called junkanoo, a staple of Bahamian music that is inspired by the colorful street parades and carnivals of the island. While none of their previous or later albums and singles rose to the success of "Who Let The Dogs Out?," the band has kept active and released a new single this year.
Of course, the Baha Men will be singing "Who Let The Dogs Out?" for the show this week, because it would be blasphemy otherwise, but they are also going to be singing their most recent hit "Bumpa" ABC revealed. The song features the Baha Men's signature smooth vocals and Caribbean vibe, and will likely have the Bachelorette crew shaking their own "bumpas."
When watching the preview for this week's Bachelorette, you can see that there's going to be a lot of kissing, some dancing, and a few moments of jealousy sprinkled about. Becca is seen on a romantic beach date with front-runner Garrett, where he seems to confess his angst over seeing her going on dates with the other guys, telling Becca, "When I see that other guys go on dates, it's brutal." I personally think Becca has the most chemistry with Garrett, and in his mind, if he's really in love with her, I can understand why he feels jealous. Sure, it's the Bachelorette, and that's how things are supposed to go, but when you have genuine feelings for someone, it's got to hurt seeing them romancing someone else.
It looks like Blake and Colton are also getting one-on-one dates with Becca this week, and by the looks of it, those relationships will be steaming up both physically and emotionally. Both guys seem to be getting confused on their standing with Becca, with Colton confessing "I don't know what she's thinking right now, that's the frantic part of all this," and Blake admitting, "She has me second guessing everything, it's crazy." In an interview with Entertainment Tonight, Becca actually confessed to falling in love with two guys, but which ones?
I love when the Bachelor and Bachelorette takes the show to exotic locales, and I can't wait to see Becca and her crew this week, living it up at the luxurious Baha Mar, strolling along the white sand and blue beaches of the Bahamas, and shaking things up junkanoo style with the Baha Men.