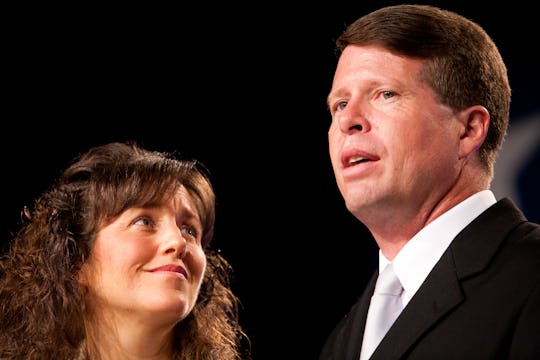 Brendan Hoffman/Getty Images Entertainment/Getty Images
Here's What The Duggars Usually Do During Religious Mission Trips
Ever since the first time fans met the Duggar family from 19 Kids and Counting on TLC more than a decade ago, the family seems to go on frequent religious mission trips. Mostly to Central America, but Duggar daughter Jill and her husband Derick Dillard recently announced they planned to branch off and do some missionary work in the United States. After spending so many years doing mission work, one would think the family would be veritable experts at it by now. But what do the Duggars actually do during missions?
Doing mission work in developing countries has remained a popular way for people from different religious sects to spread their own particular doctrine. But the description of work expected on mission trips varies widely; some churches arrange mission trips to help in the community by doing things like building schools, bringing much-needed supplies, drill wells and offer medical treatment when qualified professionals are available. These sort of missionary opportunities are based on the concept, according to Equip International, that a good missionary will aim to "demonstrate your faith in Jesus Christ in a practical way." But then there are the Duggars, who appear to focus strictly on evangelism and not much else.
Jill and Derick Dillard have come under fire for their mission trips to Central America, especially when they asked fans for donations to support their trip and didn't appear to really do anything beyond helping build more churches and trying to convert people to their faith, as several fans noted on Jill's Instagram page. When Jill posted a picture of their "ministry" work in El Salvador (which was just a picture of local people standing around her son's stroller), one of her followers wrote on her wall:
It breaks my heart that y'all are trying to convert them away from Catholicism. Even the Pope washes the feet of the poor, advocates for the needy and prays over the disenfranchised. What have you guys done? You posted zero photos of your "ministry" working with the people of Central America. I'm skeptical because you post regularly your life events, and quite proudly too. Maybe pride and deceit are your sins. This is so not Christian.
The Dillards haven't responded to Romper's request for comment.
The criticism the Dillards have experienced hasn't stopped them from asking fans for more money for their missionary work without ever fully clarifying what their money will be funding; in fact, the Dillards started a Go Fund Me page as recently as November to help support Derick's mission work in Colorado for the Cross Church School of Ministry. What work does Derick plan to do with the money? According to his Go Fund Me page; "Every donation is important and will enable me to be present and help others in need."
One person in the Duggar family might also have a bit of a problem with Derick's mission trips; Jinger's husband, Pastor Jeremy Vuolo. Fans thought that Jeremy might have been calling out Derick's "unqualified" mission work during a recent sermon.
As The Inquisitr noted, Jeremy said during his sermon:
How many people have thought, 'Well, there's an open door, so I must run through it; there's an open door for a church plant or mission endeavors, I'm going,' when they've never been established by a local church, they've never been confirmed by the people of God as possessing certain gifts? They're just Lone Ranger types running around solo asking churches for money to support them.
Jeremy has never said whether his comments were meant for Derick, but his brother-in-law does frequently ask for money to go on mission trips, and he doesn't seem to have any discernible training to be a minister. Jeremy himself has a long history of participating in mission trips, but with more of a focus on relief aid, like his trip to the Philippines in 2014.
As for other members of the Duggar family, their mission trips appear to have a similar agenda. If their 2014 trip to Central America is anything to go by, it seems the whole mission is about bringing a few gifts along for the locals, possibly helping to build a church, and then trying to convert people to their religious beliefs. The Duggar family hasn't responded to requests for comment regarding their financial requests to fans.
The Duggar family can naturally go on whatever sort of mission trip they want, but perhaps it wouldn't be the worst idea for them to be more specific about what they plan to do on these trips. Especially if, like Derick Dillard, they're going to ask for money from their followers.