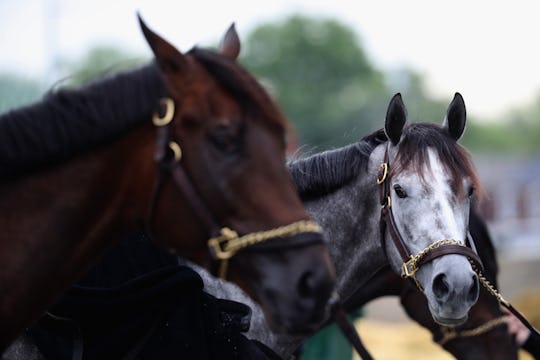 Rob Carr/Getty Images Sport/Getty Images
What Do The Horses' Names At The 2016 Kentucky Derby Mean? They're Impressive
Break out the mint juleps and the fabulous sun hats, everyone: the 142nd Kentucky Derby will be happening this Saturday. Devoted fans of the long-running horse race (the first Kentucky Derby happened in May of 1875) are gearing up for what promises to be an interesting competition at famed track Churchill Downs this year. While odds are favoring an undefeated colt named Nyquist, there has been considerable buzz about Gun Runner as well. And let's not forget Outwork, Exaggerator, and Brody's Cause either. Interesting handles, right? What do the horses' names mean at the 2016 Kentucky Derby?
Few sporting events in America are as steeped in tradition as the Kentucky Derby. There's the fashion, of course — the grand old Derby hats that look good on basically everyone — and the gorgeous garland of roses draped over the winning horse, the singing of "My Old Kentucky Home" with fellow fans, and sipping away on a mint julep or an excellent bourbon. There is also a long tradition of unique horse names at the Derby. Remember the famous champion Secretariat from the '70s? Or how about the legendary winner from 2015, American Pharoah? Impressive names for impressive competitors, and this year's favorites are no different. Fans looking to do a little betting frequently look at the meanings behind the horse's name as an indicator of its performance, so here are a few interesting choices from this year's Derby to help you figure things out.
Nyquist
One of the favorites to win this year's Derby — with 3-to-1 odds in Las Vegas projections — is Nyquist. This 2-year-old colt remains undefeated in all seven of his races so far, yet seems to be struggling a little in comparison to last year's big star, American Pharoah. Could it be the obscure name? Nyquist was named after NHL Detroit Red Wings' star forward Gustav Nyquist by owner J. Paul Reddam because, as he told CNBC, "Nyquist is all class. If you asked me to describe Nyquist the hockey player, he's very classy, soft-spoken and plays the game at a high level." With an impressive perfect track record, clearly Nyquist's name was well-chosen.
Gun Runner
Owner Ron Winchell apparently simply wanted a name with some kick when he chose the second favorite for this year's Derby, Gun Runner. And judging by Gun Runner's impressive standings, the name appears to be a good fit.
Exaggerator
According to the Courier-Journal, the name Exaggerator is a tongue-in-cheek homage to owner Keith Desormeux's girlfriend (and trainer) Julie Clark, who he said tends to embellish stories a little. Wonder how she feels about that?
Mohaymen
Mohaymen has been struggling lately with a recent loss at the Florida Derby, but if his name is any indication he could be looking to rebound. One of two Derby horses from Shadwell Stables, his name translates to "dominant" or "protector."
Mor Spirit
Danish-born owner Michael Lund Peterson named Mor Spirit after his mother ("Mor" means mom in Danish) because she is apparently a feisty lady and he's hoping to channel a little of her energy at the race.
My Man Sam
I feel like naming your horse after a loved member of the family should bode well, or at least that was the thinking Sol Kumin used while naming his horse. He named this beautiful colt after his son, Sam.
Majesto
Three owners combined the first parts of their names (Marco, Jesus, and Tony) to come up with this magical sounding name. Let's hope the magic moniker works!
Creator
No pressure here — owner Elliot Walden named this grey horse after God. Yikes.
Danzing Candy
Personally, I'm a fan of Danzing Candy's original name, Ron's Bitcoin. But owners decided to change it to add a little "zing" to the name.
Suddenbreakingnews
Owner Samuel F. "Sonny" Henderson originally wanted to name his horse Breaking News, but had to settle for Suddenbreakingnews instead. Someone has been studying his social media sites, hasn't he?
Whichever horse wins the Derby, hopefully these hardworking competitors will be treated to some form of horse spa day post-race to reward them for all their hard work.