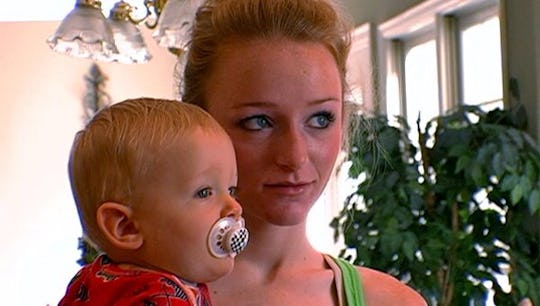 MTV
Get Ready To Feel Old, Because Here's What The Babies From 'Teen Mom' Look Like Now
It's been almost nine years since fans first met Amber, Farrah, Maci, and Catelynn on MTV's 16 & Pregnant. The show, which followed the four pregnant teenagers and the tough choices they had ahead of them, inspired the now famous reality series, Teen Mom. Since the show's inception, fans have gotten to watch these women grow up and become mothers. They also got to know an entire new batch of teen moms — Chelsea, Jenelle, Kailyn, and Leah — on Teen Moms 2. And as fans were watching these women grow, so too were their kids. Get ready to feel old when you see what the Teen Mom babies look like now.
In the years since the original Teen Mom aired in 2009, so much has happened. Farrah Abraham, Maci Bookout, Catelynn Lowell, and Amber Portwood have grown from girls struggling to figure out motherhood to moms, entrepreneurs, and reality stars. And their kids have grown from babies to small kids and Instagram stars. Also older brothers and sisters, as the Teen Mom families continue to grow. It's been a struggle for several families, with relationships ending, family drama, trips to rehab, and all of the other side effects of life in the public eye. But the moms from Teen Mom OG, as well as Teen Mom 2, seem to be working hard to take care of their kids. And you can't fault them for that.
Teen Mom OG's Amber: Leah
Amber Portwood is about to become a mom again; she and boyfriend Andrew Lowell confirmed they are expecting a baby boy together in November, according to E! News. The new baby will be Amber's second child. Her first child, daughter Leah, is now 9 years old. Portwood lost custody of Leah in 2011 to her father Gary Shirley, Us Weekly reported, but now the couple share custody of their daughter.
In a 2016 interview with Cosmopolitan Portwood, who has been open about her struggles with severe depression, credited her daughter with helping her become the "happiest version of herself."
Teen Mom OG's Catelynn: Novalee
Catelynn Lowell and then-boyfriend Tyler Baltierra gave their first daughter Carly up for adoption after she was born in 2009. The two have since married and welcomed their daughter Novalee in 2015.
While they have been told they may not share pictures of Carly online, they have kept in contact. In fact, Novalee reportedly met her big sister this spring.
Teen Mom OG's Farrah: Sophia
Farrah Abraham's 8-year-old daughter Sophia is something of a reality star herself; she is frequently featured on her mom's social media platform, and has also starred on episodes of Teen Mom OG. In fact, her mom is incredibly proud of her famous daughter, even when the little girl got into a Twitter fight with Nicki Minaj, as she told In Touch Weekly:
My baby, Sophia … is kind of taking over the world. She had her first Twitter fight with Nicki Minaj, and she's, like, hosting New York Fashion Week this weekend.
Teen Mom OG's Maci: Bentley, Jayde, & Maverick
Maci Bookout's son Bentley Edwards (with ex-boyfriend Ryan Edwards) is so clearly his mom's pride and joy. Maci has made a name for herself for being fiercely protective of her oldest son, even going so far as keeping him from seeing his father as he struggled to control his issues with substance abuse, according to People.
Maci has two more little boys with husband Taylor McKinney, 2-year-old Jayde and 1-year-old Maverick. She initially had a hard time when she found out she was unexpectedly pregnant in 2015. But son Bentley helped her, as she told People:
It took me a couple of months to wrap my mind around the change. It helped that Taylor and Bentley were very excited about the baby, but if truth be told I was terrified.
Teen Mom 2's Chelsea: Aubree & Watson
Chelsea Houska-DeBoer recently married Cole DeBoer, the father of her baby boy Watson, who she welcomed in January of this year. And her 8-year-old daughter Aubree was so happy about that, she decided she wanted to have her name hyphenated to reflect the new family status, according to People. Pretty mature for a little girl.
Teen Mom 2's Jenelle: Jace, Keiser, & Ensley
Teen Mom 2 star Jenelle Evans shares custody of her 7-year-old son Jace with her mom, and she has been very open about how difficult it's been for her to be apart from one of her kids. Jenelle is also mom to 2-year-old son Keiser, and a baby daughter, Ensley.
She opened up to E! News about how hard it is to juggle the whole family:
It's pretty hectic! I get a lot of help [from fiancé] David [Eason] though. Having a 3-year-old and a newborn at the same time is the hardest part.
Teen Mom 2's Kailyn: Isaac, Lincoln, & Lux
Kailyn Lowry is the mother of three sons; Isaac is 7 years old, while Lincoln is 3 and baby Lux was born in August. She shares Isaac with ex Jo Rivera, who is currently seeking joint custody of their son, according to People.
It took Lowry a considerable amount of time to name baby Lux; a full eight weeks, to be precise. She shares Lux with ex Chris Lopez, and she shares son Lincoln with ex Javi Marroquin.
Teen Mom 2's Leah: Aliannah ("Ali"), Aleeah, & Addie
Teen Mom 2's Leah Messer's twin daughters, Aliannah (Ali) and Aleeah, are now 7 years old. She shares the twins with ex Corey Simms, and has also welcomed another daughter, Addie, to the family. Ali has a rare form of muscular dystrophy, according to E! News, and her journey with it has been frequently documented on the show.
It's amazing to see these Teen Mom babies grown into actual children, and kind of makes you think about the passage of time. And why I'm using Teen Mom as a yard stick to measure time...
Check out Romper's new video series, Romper's Doula Diaries:
Watch full episodes of Romper's Doula Diaries on Facebook Watch.