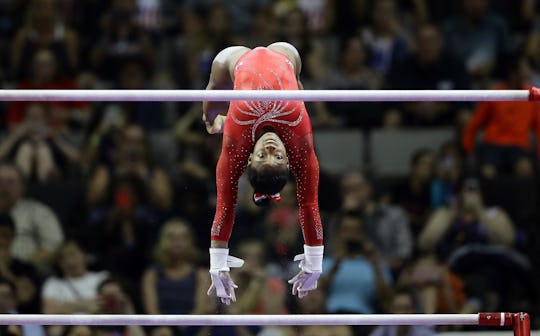 Ezra Shaw/Getty Images Sport/Getty Images
What Do The US Women's Olympic Gymnasts Do Every Day? Their Schedules Are No Joke
On Sunday, the final qualifying competition for the U.S. Olympics Team in women's gymnastics took place in San Jose, California, and five incredible gymnasts were selected for the Olympic team: Simone Biles, Laurie Hernandez, Aly Raisman, Gabby Douglas, and Madison Kocian. The U.S. Olympic team will head to Rio for the 2016 Olympics in Brazil, and fans are excited. I'm sure I'm not alone in saying that it's hard to even imagine the talent, discipline, and training it takes to accomplish what these women have accomplished. It's easy to consider them superhumans, especially after watching them compete, but since they are humans like the rest of us (I guess), what do the U.S. Olympic gymnasts do every day? Besides be incredible, of course.
Needless to say, the Olympic gymnasts have an extensive training schedule. Simone Biles, 19, a three-time world champion who automatically earned a spot on the Olympic dream team as the first-ranked gymnast, shared a little bit of what training is like with The Hollywood Reporter. According to that interview, Biles trains 32 hours a week in her gym in her home state of Texas. As for food, Biles told OZY.com that, while she eats healthy food, she still has a love for pizza — but then again, who doesn't?
"I eat what I want, but I'm smart about it," Biles said. "Otherwise sometimes I can feel really slow."
Gabby Douglas, 20, 2012 Olympic all-around gold medalist, shared one of her typical daily meals on days she's training with Cosmopolitan. On one of those typical training days, which begin with a glass of water, Douglas also eats and drinks tea, oatmeal, and a banana. She told Cosmopolitan that she typically trains for four hours in the morning (beginning at 8 a.m.) and two hours in the afternoon. The rest of her meals can include foods like chicken, grilled asparagus, dark chocolate-covered almonds (yum) for lunch, and grilled salmon, green beans and a cup of pasta for dinner. But for the fellow sweet-toothed-dessert-enthusiasts like myself, have no fear – there's dessert. Douglas added that her day of training ended with homemade gingerbread.
As for the 22-year-old Aly Raisman, who won three Olympic medals, she told Boston Magazine, that she trained for 35 hours a week leading up to the Olympic qualifying competition. She typically eats toast or cereal with skim milk for breakfast while training, and chicken or fish with brown rice for lunch. Later in the afternoon, she'll have a banana or watermelon before heading back to the gym – with training typically beginning at 8:00 a.m. and ending at 9:00 p.m. But Raisman also maintains good skin regimens, telling Boston Magazine that she's "obsessed with skin products." As for sleep, Raisman told Cosmopolitan it's an important part of her day:
With more than 30 hours a week of training, my body gets tired by the time Sunday rolls around, and while I try to sleep in, it's hard because I'm so used to waking up at 7 a.m. I think resting, relaxation, and clearing your mind is one of the healthiest things you can do.
Agreed.
Madison Kocian, 19-year-old world champion on uneven bars, told NBC that her training schedule consists of waking up at 6:35 a.m., going to train for a few hours before coming home for lunch – only to leave the house again to continue training. But she told NBC that she channels positivity to help get through each day.
Many people don't realize the dedication and sacrifices elite athletes and Olympic hopefuls contribute to their sport. It's a roller coaster journey that requires working hard every day and maintaining a positive attitude.
Laurie Hernandez, one of the youngest gymnasts to go to the Olympics at 16 years old, told NBC that a typical training day for her begins at around 8:30 a.m. and lasts for five to six hours a day. But she makes sure to carve out time for school and homework.
"Two days a week I have half a day, which means about four hours," she said. "When I come home, that is where I find time to get my school work done, as I am homeschooled."
Hernandez, who is the first United States-born Latina to make the team since 1984, explained just how serious training can be:
Training is serious, and working hard inside and out of practice will help you reach your goal. Eating healthy is also a big part of sports, as the right foods will help you inside your sport.
All praise goes to these fierce women.