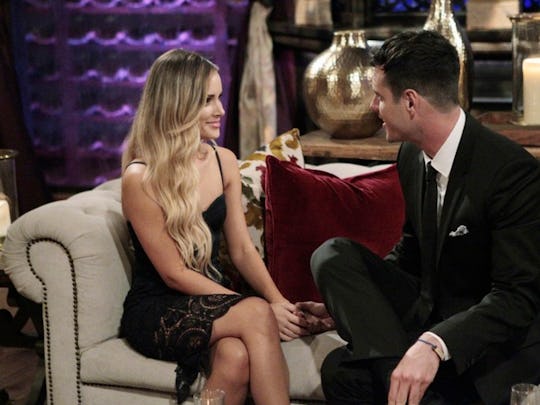 What Does Amanda Stanton's Ex-Husband Think Of 'The Bachelor?' He's A Pretty Good Sport About It
After Amanda Stanton told Bachelor Ben about her kids on Monday's episode, interest in her ex-husband, and daughters' father, has spiked. Nick Buonfiglio is out there, but what does Amanda's ex think of her on The Bachelor? It's actually not hard to find out, because Buonfiglio's social media profiles are totally open to the public so we can stalk him (in the nicest way, of course) as much as we want.
Some sleuthing and reading way too much into his posts and comments to friends show that he might be Amanda's biggest supporter. Romper reached out to Nick to ask him directly about what he thought of the show, but hadn't heard back by the time of this writing. Buonfiglio also has some super supportive friends.
It seems like the couple split pretty amicably and just before the premiere of this Bachelor season, Buonfiglio was posting to Facebook about watching it this time around. He wrote:
For some reason this year, more than ever, I am interested in watching the bachelor. I'll be having a viewing party at my house this monday. Text or message me if you want to come.
And then friends started responding. He asks one eager pal if she knows why he's watching or if she was "in the dark." He explains "Ex wife and mother is on this season...Baby momma* not my mom haha."
The friend responds that she wouldn't want to watch it if she were in his shoes, but Nick just moves the conversation along about texting for directions and bringing wine.
He's totally in. Another friend commented that Nick will definitely want to watch when she's on The Bachelorette next season (there are rumors that Stanton will be the chosen one) and Nick "liked" the joke. If anything, Nick is totally supportive of his ex and the mother of his two daughters. From his social media presence and good humor, it looks like Nick has Amanda's back no matter what.
If only for their daughters, that's an admirable stance to take. Because really, would you be able to watch your ex try to pick up a partner on national television? It can't be easy.
Image: ABC