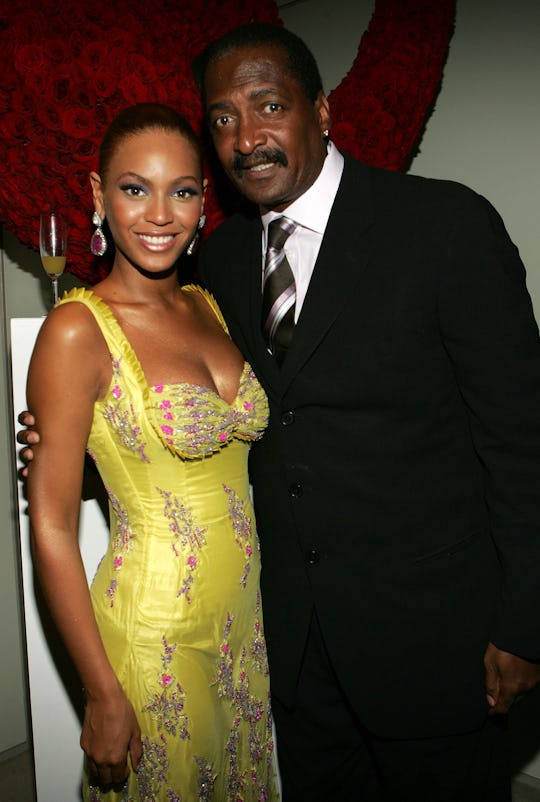 Frank Micelotta/Getty Images Entertainment/Getty Images
What Does Beyonce's Dad Think About 'Lemonade'? Mathew Knowles Isn't Keeping Quiet
Fans are raving online about Beyoncé's latest album, Lemonade — and more specifically about the lyrics and poetry infused in its 12-song track list. Some have used words like "emotional" and "intense" to describe the project, and (given the album's many references to marriage and infidelity) wondered whether the singer was drawing from heartache she experienced in her own marriage to music mogul Jay Z or whether Lemonade was about Beyoncé's father, Mathew Knowles. And while Jay Z hasn't gone public with his thoughts on his wife's latest work, what Beyoncé's dad thinks about Lemonade is far less of a mystery.
Beyoncé took over the internet earlier this week with the surprise release of her newest musical project, Lemonade. The singer launched Lemonade as an hour-long "visual album" on HBO Saturday night and made the full album available later that evening on Tidal and for sale at Amazon and iTunes this week. According to many fans, the pointed lyrics and heavy themes in her latest album made Lemonade feel uniquely personal, though it wasn't clear whether fans were getting a rare look inside the star's much-talked-about marriage to Jay Z or into her turbulent relationship with her father Mathew Knowles (who is also her former manager). According to Entertainment Weekly, Knowles divorced Beyoncé's mother, Tina Knowles, in 2011 after allegedly cheating on her. That same year, Beyoncé and her father ended their professional relationship, EW reported.
And Knowles certainly hasn't kept quiet about Lemonade. Knowles called in to a Sirius XM radio show on Monday night to offer his perspective on his daughter's latest project. Host Matsimela Mapfumo-Mark Thompson interviewed Knowles via speakerphone from a class Knowles was teaching at Texas Southern University. And, as if that wasn't awkward enough, the former Destiny's Child manager seemed to grow increasingly irritated during the call, though according to the Hollywood Reporter, Thompson confirmed that Knowles had requested the interview.
The entire 19-minute interview with Knowles and Sirius show "Make It Plain" is available on Soundcloud, and well worth a listen. After playing a clip from "Daddy Issues," Thompson asked Knowles whether the singer was talking about him:
Host: Are those lyrics about you?
MK: I don't know, but I don't think so. I can say I've never in my life hit my daughters, so she's never 'been a slave to the back of my hand' because I didn't believe in that. [...] There's no way that we can get into the mind of Beyoncé. Only Beyoncé can answer who specifically she was talking to.
The host went on to play a portion of single "Daddy Lessons" where Beyoncé seemed to compare Jay Z's (possible) philandering to Knowles':
You remind me of my father, A magician. Able to exist in two places at once. In the tradition of men in my blood, you come home at 3 a.m. and lie to me. What are you hiding?
When Thompson asked Knowles what he thought of the lyrics, he refused to give an outright answer:
I have no reaction sir. I know the response you want to get. You're not going to get that response.
Instead, Knowles chose to talk about the massive success the project has produced for his daughter and her career: "I am so proud of Beyoncé, because that means the body of work that she did has made that type of impact on the marketplace. Everybody's talking about it, everybody's tweeting about it."
But later in the interview, Knowles seemed to get irritated at the host for asking questions about his relationship with the megastar or whether he was concerned about the rumors that might be swirling about him, given some of the lyrics in Lemonade. "You're sounding like a kid, asking me that," Knowles said, adding that at 64 years old he cared little for what others thought of him. Speaking to the classroom of students present for the call, he said, "They [the radio hosts] are trying to sell advertising."
According to the audio, Knowles offered much praise for his daughter's project, citing her open support for the Black Lives Matter movement and for supporting women overall.
But, as for whether Beyoncé's heartfelt lyrics were really meant to skewer Knowles over his treatment of her mother, fans will have to keep wondering. Because Knowles seems to have no intention of telling.