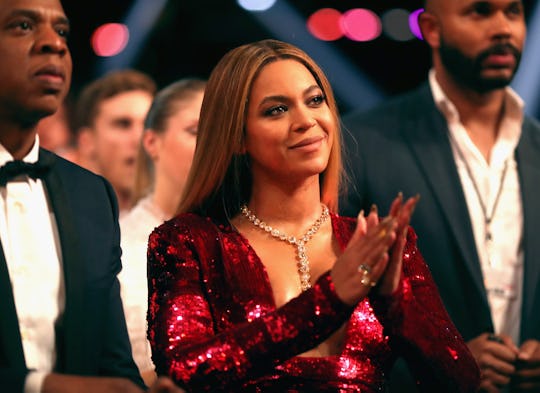 Christopher Polk/Getty Images Entertainment/Getty Images
The Meaning Behind Beyoncé's Outfit In Her Twins Instagram
After nearly a month of speculation, sources, and a lot of Illuminati theories, Beyoncé has finally announced the birth of her sweet twins in a gorgeous Instagram post. She's standing in front of a floral display, a lot like the one in her pregnancy announcement post, and she's wearing a gorgeous multi-colored shawl (that's mostly purple) and a long blue veil. But what does Beyoncé's outfit in her twins Instagram mean? Seriously — she looks like a goddess.
Maybe that's what her outfit means. I mean, mothers are goddesses, and with both of her babies, Sir Carter and Rumi, wrapped up in the shawl she's draped with, she looks like a painting of Madonna. It's gorgeous, but her outfit in her twins' Instagram photo is also really intimate, soft, and seems to speak volumes (literally, that shawl is huge) about being a mother. You can hardly tell where Beyoncé's body ends and the twins' begin, and standing in front of flowers, surrounded by greenery and the ocean gives a definite Mother Nature vibe. If Bey was going for natural, organic, lovely, and motherly, she nailed it with her twins Instagram outfit.
Vanity Fair seems to agree. After announcing her pregnancy, the magazine claimed there was a reason why her photo seemed so familiar to you — she was inspired by great works of art and, you guessed it, the art is all pertaining to goddesses, the Virgin Mary, and other sculptures and women depicted in paintings as lush, vibrant, and full of life. (Literally.)
But beyond comparing her outfit to those of actual goddesses and art, what else does Beyoncé's outfit mean? If you're comparing it to her pregnancy announcement photo, you may have noted some similarities, like that veil. This time, however, the veil is behind her rather than over her face. According to Wedded Wonderland, a veil symbolizes innocence and purity, and is traditionally worn over a woman's face as she walks down the aisle. Once the bride reaches her husband, typically, her father lifts the veil and puts it behind her. Is Beyoncé's veil symbolic of being on the other side of pregnancy, holding her babies, or is it just a symbol of innocence and purity?
The fact that the veil is blue may hold a lot of symbolism, too. Apparently a blue veil is a symbol of the Daughters of Divine Love, and can represent "women's piety, sacrifice, and observance." If motherhood isn't about sacrifice, what is?
The purple shawl, which connects Beyoncé to her children, has colors of blue and red woven in, which could symbolize Sir Carter and Rumi (especially if you're following the idea that blue is for a boy and red or pink is for a girl), and turns into purple, mixing Beyoncé and her children together until they are one. According to the website Color Matters, purple is also considered rare and is "the most powerful wavelength of the rainbow" and is a color with a rich, powerful history.
Basically? Beyoncé's outfit means she's strong, powerful, and a goddess of babies. Congratulations to the Carter family, again, for the birth of their twins, and bless you Bey for sharing this photo in the middle of a tumultuous week for the world.