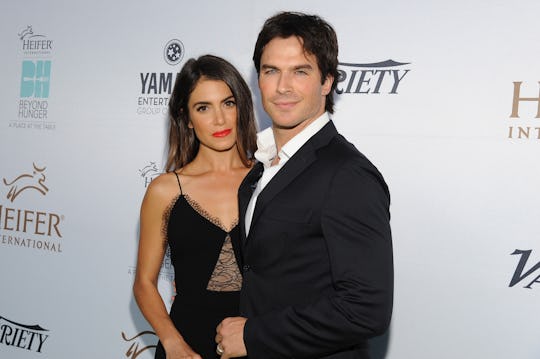 Angela Weiss/Getty Images Entertainment/Getty Images
Nikki Reed & Ian Somerhalder Named Their Baby Bodhi Soleli, & It Has A Gorgeous Meaning
It looks as though the world is about to become a more beautiful place. After months of waiting and speculating, Nikki Reed and Ian Somerhalder have finally become parents. The couple welcomed daughter Bodhi Soleil Reed Somerhalder on July 25, the couple's first child. As celebrity baby names go, this one felt especially evocative and beautiful for the new parents, both of whom are devoted to activism and making this world a better place. So, what does this name?
Loosely translated, Bodhi means "awakening" or "wisdom." And the name Soleil is the French word for the sun. In other words, Reed and Somerhalder have just given birth to a perfectly awakened bit of sunshine. How beautiful is that?
According to Name Berry, the name Bodhi is related to a Buddhist concept symbolized by the Bodhi fig tree under which the founder of Buddhism was granted full spiritual enlightenment. Bodhi is "synonymous with the state of nirvana, being freed from hate, greed and ego." While Bodhi is still a relatively unusual name on most school playgrounds, it is gaining in popularity —although generally as a name for boys. In the past four years, it has risen a whopping 500 spots in the U.S. Top 1,000 Names.
E! News broke the story of Bodhi's birth on Thursday, weeks after the big event. And that's saying something for her actor parents, considering how hard it is to keep any sort of secret for more than a few days from the internet. Although Vampire Diaries' alum Somerhalder and Twilight star Reed have managed to duck out of the spotlight a few times in the past; case in point, their wedding. The couple tied the knot in 2015 and pulled it off without any paparazzi fanfare to speak of. Pretty amazing.
Even Reed's pregnancy was kept a secret for a few months: The actress announced that she was expecting with a beautiful photo shoot on Instagram in May:
She captioned the photo:
I know you, but only because I feel you. How is it possible to love someone so much already? All I know for sure is it's the strongest feeling I've ever felt. We've been sharing this body for quite some time, and we've already experienced so much together. We can't wait to meet you...Love Your parents
For his part, Somerhalder shared the same photo with his own beautiful caption:
To our friends, family, and rest of the world. In my 38 years on this earth I've never experienced anything more powerful and beautiful than this. I can't think of anything more exciting than this next chapter and we wanted you to hear this from us first. This has been the most special time of our lives and we wanted to keep it between the three of us for as long as possible so we could enjoy this time with each other and our little one who is growing so fast...because that's what they do, they grow so fast. Thank you for your kind energy. Love,Ian
It seems Bodhi Soleil has been born into a family full of its own sunshine: Lots of animals (the couple own several dogs, cats, and even a horse named Eagle), and obviously lots of love.
Not a bad start to life.