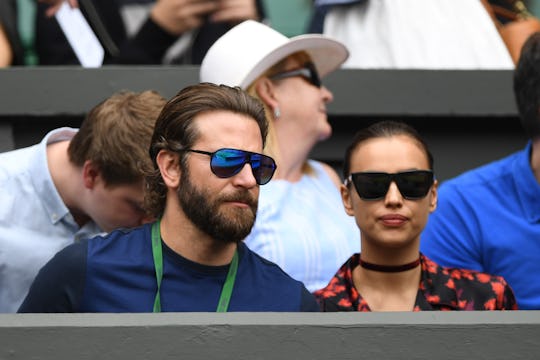 Shaun Botterill/Getty Images Sport/Getty Images
About Bradley Cooper & Irina Shayk's Baby Name
Irina Shayk and Bradley Cooper welcomed their first child to the world just a few weeks ago and some exciting details have finally been revealed. According to E! News, the couple's new addition is a baby girl named Lea de Seine Shayk Cooper. It's a beautiful name with French roots and their daughter's future signatures will feature both of her parents' famous last names. But, what does Bradley Cooper and Irina Shayk's baby's name actually mean and why might they have chosen it?
As Vanity Fair pointed out, her name is very French and it might be "an ode" to the new dad, who is proficient in the language and reportedly studied abroad in Aix-en-Provence for six months during college. But, neither parent has any apparent family lineage to the country as Shayk was born in the former U.S.S.R. and Cooper is originally from Philadelphia.
But, for fun, let's break it down: The meaning of the name "Lea" is the bringer of good news with a biblical background that's popular in a many countries, especially in the United States. Meanwhile, "de Seine" literally translates to "from Seine" in English, which is a beautiful river in northern France that flows through Paris. So, the name "Lea of Seine" could be interpreted in a couple of ways.
One theory could be that the new parents, who have reportedly been together for two years, have some kind of significant connection to the French waterway, or the country in general. According to The Daily Mail, Cooper and Shayk celebrated their first anniversary with a romantic trip in France last March after the new mama had strutted down the Paris Fashion Week runway. Months later, the 31-year-old Russian model debuted her bump in Paris on the Victoria's Secret runway in November 2016, although the couple never officially confirmed they were expecting and it was unclear if Cooper was in attendance then.
Additionally, as E! News reported, Cooper and Shayk have been spotted on numerous occasions kissing and walking hand-in-hand, many times in France. So, perhaps their relationship blossomed in one the most romantic countries in the world and their daughter's name is a symbol of their love, or maybe it's just a beautiful name that they both liked and it suited their little girl. (Or, perhaps more NSFW, the baby was conceived at some luxurious hotel along the Seine, the way everyone assumed — incorrectly — that the Beckham family picked their kids' names.)
The true meaning behind little Lea's name will be purely speculation until either of her parents decides to dish any sort of details about it. Either way, little Lea de Seine won the lottery with that beautiful moniker.