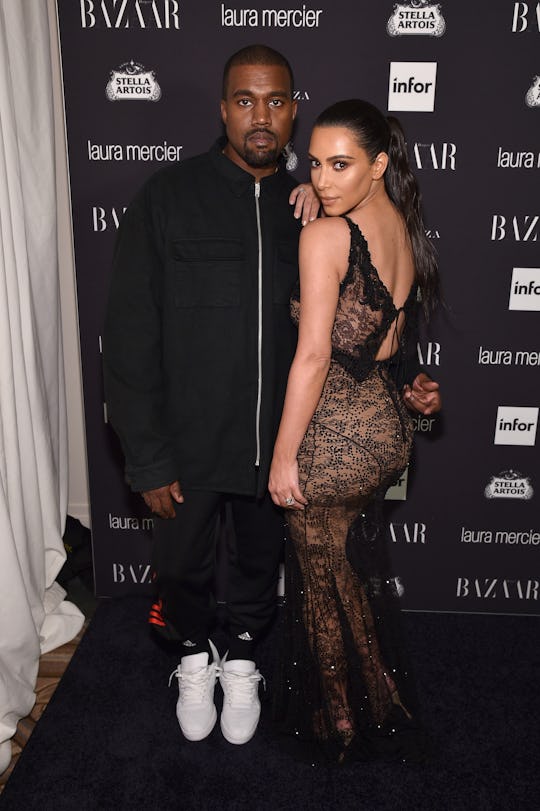 Bryan Bedder/Getty Images Entertainment/Getty Images
What Does Chicago Mean To Kim Kardashian & Kanye West?
Well, they didn't make us wait for too long! After a mere few suspenseful days, we finally know the name of Kim and Kanye's new baby girl: Chicago West. Has quite a ring to it, no? But of course, now what we all want to know is... whyyyyy? What does it all mean? What does Chicago mean to Kim Kardashian and Kanye West?
The baby name news comes four days after Kim's surrogate delivered a healthy baby girl on Monday, Jan. 15, 2018. Kim released a statement confirming her daughter's birth the following day, reported E! News. Kim shared:
Kanye and I are happy to announce the arrival of our healthy, beautiful baby girl. We are incredibly grateful to our surrogate who made our dreams come true with the greatest gift one could give and to our wonderful doctors and nurses for their special care. North and Saint are especially thrilled to welcome their baby sister.
The now-mom-of-three also shared an announcement on her app and website, but only gave us a few details. Of course, they were very important details — that the baby had arrived, that she was healthy, and that her family was already "so in love." (So sweet!)
But then, of course, we had questions. Two big questions, to be precise. When do we get to see photos? And, what's this baby girl's name? Well, we'll just have to be happy to have the answer to that second question...
Even though it brings up one more big question.
Why Chicago?!
Super fans of Keeping Up With The Kardashians and / or Kanye West himself will, of course, already know that the music (and fashion) mogul himself grew up in the Windy City. Though he was born in Atlanta, he was just 3 years old when he and his mother moved to Chicago, according to the Chicago Sun Times. The paper adds that Kanye "grew up on the South Side and the southern suburbs while his mother worked in higher education."
Also, the song "Homecoming" on Kanye's 2007 album Graduation is all about his home city, Elite Daily reported. Clearly, his childhood home means a lot to this guy!
Rumors about what this baby's name might be have been a-flying since the announcement of her birth, from the super silly:
To the not-so far-fetched idea that the glam pair might be naming their baby after Louis Vuitton. (Stranger things have happened!)
One more theory was a bit more sentimental... The happy daddy was photographed arriving to work in Los Angeles the day after his baby girl arrived, according to E! news:
When asked about his new baby girl, he admitted the couple "Can't think of a name!" and, when one photographer suggested Donda after his late mother, replied, "Oh, that's fire."
And though Kim and Kanye didn't name their baby girl after Kanye's mom, naming it after the city in which she raised her little boy sure seems like a sweet tribute to me.
Whatever the meaning, the important thing here, folks, is to make sure we don't go around calling this baby girl the wrong thing. Because, though her name is officially Chicago West, it looks like she's going to have an official nickname. And it's not pronounced how you think it should be!
Ah, there's that one-syllable name we were looking for! Pronounced "shy"— not like the "ch" in cheetah.
As recently as November, Kim told Ellen Degeneres that the couple hadn't picked a baby name yet. "It's so hard," she said, according to CNN. "I do like different names, but short, easy to spell, one syllable. That's kind of my vibe."
This adorable, and significant, nickname certainly fits in with the Kardashian vibe, wouldn't you agree? Happy birthday, Chi! Welcome to the wild, wonderful world.
Check out Romper's new video series, Romper's Doula Diaries:
Watch full episodes of Romper's Doula Diaries on Facebook Watch.