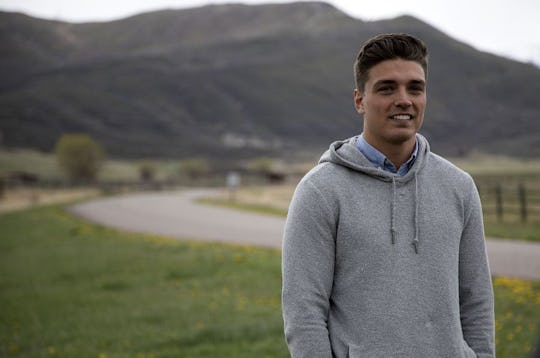 Josh Vertucci/ABC
Dean Doesn't Hold Any Grudges About Rachel's Decision On 'The Bachelorette'
Now that we've all (well, most of us) have gotten over Dean's elimination and the realization that he doesn't get a happily ever after with Rachel, it's time to start hoping for a brighter future for someone who was easily one of the favorites this season. But now that it's all over and Rachel is at least getting her happy ending, what does Dean think of Bryan and Rachel on The Bachelorette? He's made it clear that he's not a huge fan of the man she chose in the end, but I don't think that means he doesn't support the choice Rachel made if it means she's happy.
And Dean does appreciate the time he had with Rachel and how she helped him open up about losing his mom to cancer and his subsequent suffering relationship with his dad. "I think that Rachel pushed me to open up a lot more than anyone else has done before," Dean told People. "She allowed me to speak of things that I normally would not speak of."
As far as Bryan is concerned though, Dean's been pretty open about his suspicions regarding the Miami chiropractor who ended up being the last guy standing at the end of The Bachelorette this season, to almost no one's surprise.
Following his elimination this season, Dean spoke to Entertainment Tonight about his concerns regarding Bryan on The Bachelorette even before Rachel accepted his proposal. "I can understand skepticism from a viewer's perspective," Dean told Entertainment Tonight. "I keep seeing these red flags everywhere with Bryan. I think just the heart eyes on Rachel are kind of blinding her a little bit... He definitely knows how to say the right things at the right times and it's working out for him."
While it's not necessarily a crime to be smooth with the ladies and know how to woo Rachel, Dean's comment does show what he thinks of Bryan at least, but where Rachel is concerned, it seems like her happiness is more important to him than anything.
When Dean spoke to Ashley Iaconetti for Access Hollywood backstage at the Men Tell All taping, he insisted that he had no anger toward Rachel and that being able to talk everything out gave him the closure he needed.
After one of Dean's most memorable one-on-one dates with Rachel aired, he posted a photo of the two of them in Instagram with the caption: "Thank you: for understanding, for being there, for allowing us to be vulnerable, for listening. @therachlindsay really is the most amazing woman."
Clearly he thinks very highly of the Bachelorette. Even though she might have chosen someone that Dean didn't agree with himself, he's basically America's sweetheart, so it's hard to imagine him doing anything but supporting Rachel's decision.