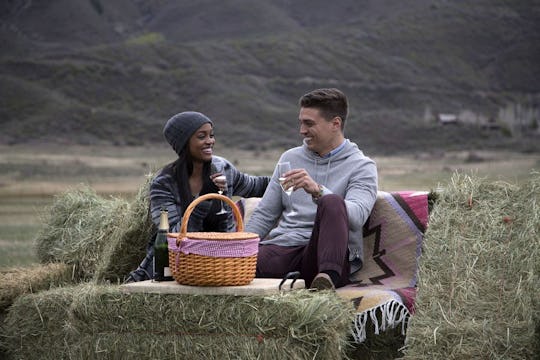 Josh Vertucci/ABC
The Latest 'Bachelorette' Elimination Was Heartbreaking
Whenever seasons of The Bachelorette get down to the final few contestants, it gets increasingly difficult to say goodbye to them. From the Bachelorette's standpoint, but also for the viewers, as we become attached to these men we learn so much about. Just like with Dean, who opened up about dealing with his mom's death as a teenager and the subsequent not-so-great relationship he had with his dad in the aftermath. So why did Rachel eliminate Dean on The Bachelorette?
Making it to hometown dates is a triumph in itself, sure, but since that's where the real test is, it was stressful all around to watch Dean work through things with his dad while trying to welcome Rachel into his world away from The Bachelorette. Rachel's decision to eliminate Dean didn't come about because she doesn't have feelings for him. In fact, before she made the announcement, she said, "I want you to know that I believe you are an absolutely amazing person."
And after her initial doubts earlier in the season regarding their age difference and possibly different goals, Dean managed to open up to her in a very real way that made it seem like he was definitely Final Two material. In fact, every time Dean and Rachel were able to have alone time or one-on-one dates, they seemed like a couple already, making his elimination Monday night that much more difficult to watch.
During hometown dates, fans learned more about Dean's childhood and his relationship with both of his parents and he even confronted his father for the first time about it all, but they weren't able to work things out. As it turned out, Dean hadn't seen his father for two years. In fact, it had been several years since he and his siblings had all been together under the same roof, so he definitely had some things to work through. But that fact that Dean was willing to do that for Rachel and for the possibility of their future together shows how important she was to him this season.
Since Rachel had to send someone home though, this time around it was Dean. Rachel said herself, she didn't realize how she would feel when it got to this point, and even though she said she loves Dean and "meant everything" she said, it wasn't enough to dissipate her doubts about Dean being ready for what she's looking for.
It didn't take long this season for Dean to become a favorite Bachelorette contestant, thanks to his good looks, charm and just all-around feel good energy that kept him out of the drama and looking toward a future with Rachel. Obviously she noticed this too, which might be part of the reason he lasted as long as he did. But after hometown dates, Dean was eliminated on The Bachelorette and it was totally heartbreaking. It would be an understatement to say that he will be missed.