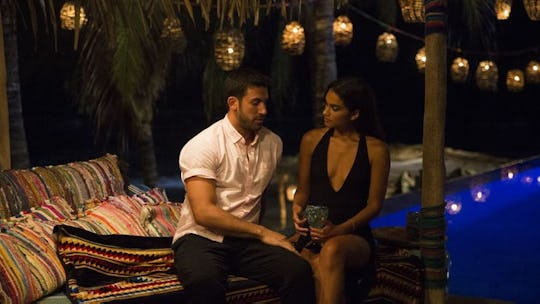 Paul Herbert/ABC
'Paradise's Taylor & Derek Are Merging Two Families Together
It's been a given pretty much all season that Derek and Taylor were meant to last. Think about it: Even Haley backed off after hearing that he was taken, which is a far cry from her twin sister trying everything in the book to woo Dean away from D-Lo. There was no way Derek and Taylor were going to play around. According to a few reports, Derek finally popped the questions at the Bachelor In Paradise after show, which means a wedding is in the works. So what does Derek's family think of Taylor?
It's a good question, since Taylor's first time around on the show did not portray her in the kindest light. If you'll remember, she spent most of her time trying to get Nick Viall's attention by fighting with Corinne and flaunting her "emotional intelligence." So Derek's family might have been familiar with her (if they watched that season, of course, and why wouldn't they?) before they knew he was falling in love in Paradise.
Derek mainly posts pictures of himself out and about with his friends and fellow bachelors, but a few weeks ago he shared a pic of his family. "We are the Peths," he wrote. Funny enough, his younger sister Rachel kind of looks like Taylor. Not that that means they're going to get along, but it could potentially help her to instantly feel like part of the family.
Seriously, though, doesn't that kind of look like Taylor if you glance super quick? Fooled me, at least, for a minute.
It sounds like everyone is happy about this relationship, though nothing's been confirmed just yet by the couple. However, the after show is taped in advanced and leakers are pinky-promising that Derek and Taylor are totally committed.
According to E! News, Derek presented his betrothed with a three-carat diamond ring in a platinum setting from Neil Lane, which is estimated to be worth more than $60,000. Although the pair were spotted out partying the night after the alleged engagement, that rock wasn't on Taylor's finger, though who wouldn't lock up their valuables while out partying with the Bachelor cast in West Hollywood. Things get wild, right?
These two are meant for each other. Derek was swooning as soon as she told him that she was looking for a serious macho man in her life, saying that she just wanted a guy who'd build her a fire in the woods. After their first date in Mexico, Derek gushed, "Every time I'm with Taylor I just feel really happy. I keep smiling and I'm really giggly and like a school boy again who likes a girl."
It was meant to be, apparently. Now let's see that ring, Taylor.
Check out Romper's new video series, Romper's Doula Diaries: