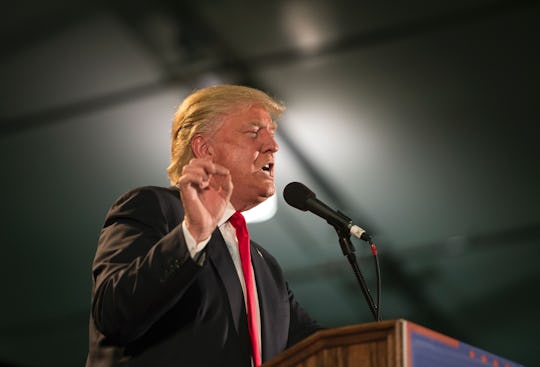 JOSH EDELSON/AFP/Getty Images
What Does Donald Trump Think Of Hillary Clinton's Nomination? He Has A Way With Words
Now, the fight begins. On Monday, one day before the anticipated California primary Super Tuesday results, the Associated Press reported that Hillary Clinton had clinched the Democratic presidential nomination, beating out tenacious rival Vermont Sen. Bernie Sanders. But, as formidable an opponent as Sanders was, Clinton is about to face off against someone even more, well, formidable would be too kind, wouldn't it? Now, after Clinton has reportedly become the first woman to represent a major party in a presidential race, the question is, what will Donald Trump say about Clinton's presidential nomination?
It really is only a matter of time. After all, Sanders reacted almost immediately to the Associated Press' report, claiming the media was rushing to judgment, and that "Secretary Clinton does not and will not have the requisite number of pledged delegates to secure the nomination. She will be dependent on superdelegates who do not vote until July 25 and who can change their minds between now and then." Sanders is right of course — we won't officially know whether or not Clinton is the declared Democratic nominee for president until the convention in Philadelphia next month, even if outlets like The Washington Post crunched the numbers to prove the former Secretary of State all but has it in the bag.
But Trump, who is typically so quick to tweet, has been uncharacteristically silent since the Associated Press released its report. In fact, he hasn't tweeted in three hours, since he teased his appearance on The O'Reilly Factor.
Not that Trump has been silent about his likely opponent in the past. It's no secret that Trump and Clinton get together about as well as, oh, oil and vinegar, but, most recently, Trump has recently attacked the presumptive Democratic nominee for playing "the woman card" to get votes. And that's one of his nicer criticisms of Clinton, believe it or not. (Forget the fact that Trump once said that Clinton would actually make a great president. Oops.)
Now, however, that President Barack Obama is on the brink of endorsing Clinton in order to "shred Donald Trump," as the New York Times reports, it's likely that Trump will be on the attack too.
But Clinton is quite ready to attack right back.
Like I said, the fight begins.