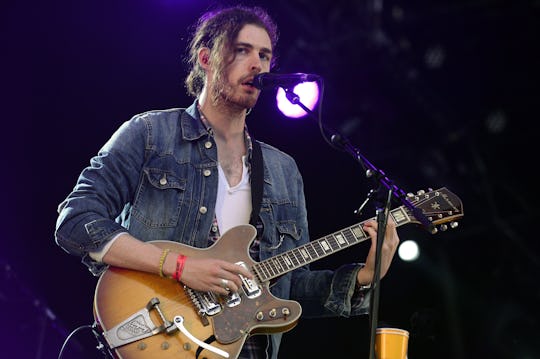 BERTRAND GUAY/AFP/Getty Images
What Does Hozier's 'Cherry Wine' Mean? The Newly-Released Music Video Has The Answer
I spent the entire summer of 2015 walking in the woods, listening to "Cherry Wine" by Hozier on repeat and feeling at one with nature. I know all the words... but it turns out, I didn't really know all the words. I just thought it was one of those beautiful, birds chirping and the sun is shining overhead kind of songs perfect for summer. It took a new video starring Oscar nominated Saoirse Ronan released on Valentines Day to teach me what Hozier's "Cherry Wine" truly means.
The chorus alone should have been a bit of a hint:
The way she tells me I'm hers and she's mine / Open hand or closed fist would be fine. / Blood is red and sweet as cherry wine.
Hozier wrote the song from the perspective of a man suffering in a physically abusive relationship. It was originally released as part of his self-titled debut album in September 2014. The Irish singer recorded "Cherry Wine" in an old abandoned hotel with a caved-in roof and walls covered in graffiti at "like 5 in the morning." He recreated the same easy vibe for the original video (tricking some of us into thinking it was a light and playful song, what with his rumpled hair and excellent beard).
The newly released video, starring fellow Irish native Saoirse Ronan, was filmed to shed light on domestic violence around the globe, as well as raising important funds for victims, according to an interview with the Associated Press. Two days prior, the song was released as a charity single on itunes. The beautifully shot video, directed by Irish filmaker Dearbhla Walsh, also stars actor Moe Dunford (Vikings, Game of Thrones) and focuses not on the act of violence itself but the world of the victim before and after, as well as how difficult it can be for the victim to see themselves as a victim, particularly when they're in love with their abuser.
In the video, Ronan (nominated for a Best Actress Oscar for her role as an Irish immigrant in Brooklyn) plays a domestic abuse victim who spends much of the time looking blissfully in love. In one of the most powerful scenes she sits in front of a mirror slowly wiping the make-up away from her blackened eye as her partner tenderly tries to help her mask the bruise with a lock of her hair. Beside the mirror is a framed picture of Ronan kissing her baby. I won't lie, I cried.
In and interview with The Independent, Ronan explained the motive behind the video. "I hope through the video and song we can shine light on the issue and complexity of domestic abuse," she said, "and in doing so help those caught in the cycle of domestic violence."
It turns out sometimes, a song isn't always just a song. It's a window creaking open, a hand held out, a chance to make a change. So that every woman might have a chance to wander aimlessly through the woods on a sunny day and feel safe.