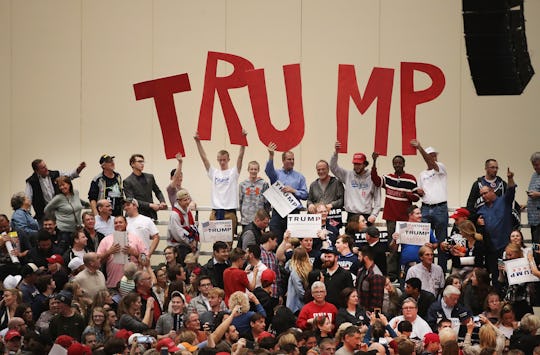 Scott Olson/Getty Images News/Getty Images
What Does It Mean If Trump Wins Indiana?
Voters across the United States are keeping a very close eye on Indiana, where votes are still being counted throughout the state. At the moment, however, Republican presidential candidate Donald Trump is currently in the lead, and The New York Times has projected he'll win the state, leading Americans to ask, " What does it mean if Trump wins Indiana?"
Update: According to The New York Times, Trump has won in Indiana, winning with 61 percent of the vote.
Indiana's 11 electoral votes give Trump an early lead in the presidential race, and while that bump in votes may scare Democrats, Indiana has typically been a Republican state. (The last time a Democratic candidate won in Indiana was in 1964, Lyndon Johnson was on and won the ticket.) Indiana is also Trump's vice presidential candidate and Gov. Mike Pence's home state, so a Trump win in Indiana shouldn't be surprising.
If Trump's projected win in Indiana holds up, however, it's an early sign of what Americans can expect from traditionally Republican states as polls close across the country. Some speculated that recent coverage of Trump's comments about women could significantly damage his chances of winning the presidency, but the Republican candidate's early projected win in Indiana — as well as in Kentucky and West Virginia — are proof that many Republicans are remaining loyal to their party's presidential nominee.
So while Indiana might be one of the larger states to close their polls earlier than others on election night, it's not one of the main states that candidates need to win over. The states that Trump and Democratic candidate Hillary Clinton will be biting their nails over are this year's projected swing states, where winning will be essential in order for one of the presidential hopefuls to clinch 270 electoral votes.
According to The Telegraph, the main states to watch on election night are Florida, Pennsylvania, and Ohio. These three states — along with a few others, including Iowa, New Hampshire, Colorado, and North Carolina — don't reliably vote Democratic or Republican, so results tend to be much harder to predict. They also have a significantly higher number of electoral votes per state, meaning that a win in each of these particular staets can carry a significant weight once it comes to the Electoral College vote. (Let's not forget that whoever has won in Ohio has also won the presidency in every election since 1960. Florida's only strayed from that streak once.)
If Trump wins Indiana, it's a good sign that Trump hasn't lost his following in the last few weeks (as controversial news has emerged about the candidate) — but it's definitely not a state that will be deciding the election.