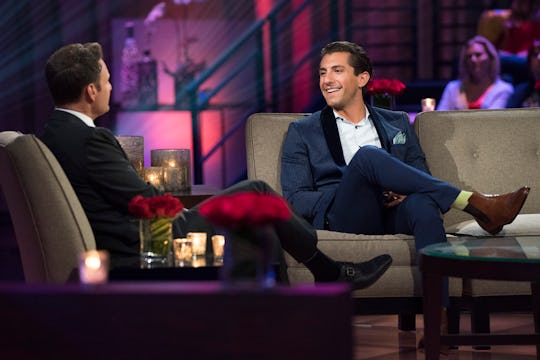 Paul Hebert/ABC
Jason's Feelings On 'The Bachelorette' Now Prove How Sweet He Is
In the end, The Bachelorette can only pick one person, so there's a lot of broken hearts along the way. One such broken heart is that of Jason, who left the show right before his fantasy suite date. What does Jason think of The Bachelorette now? He and Becca reunited briefly during the "Men Tell All" special. And to be honest, it wasn't nearly as awkward as I feared it would be.
Jason is the definition of a "good egg," in my opinion. He took his elimination in stride on both the actual show and on the "Men Tell All" special. Prior to his and Becca's fantasy suite date in Thailand, Becca revealed that she just doesn't feel as strongly for Jason as she does the other two — Blake and Garrett — and sent him home.
Jason later made a move that I usually hate on these shows: he went back after Becca said her goodbyes. Jason, however, really showed what a good guy he is. He didn't beg Becca to take him back; rather, he wanted closure, and gave her a scrapbook he made of their journey together. If that doesn't cause viewers to say "aww," what will?
Jason on "Men Tell All" provided some other "aww" moments. In the hot seat, he revealed that he was hurt by the elimination — and it was hard to watch it back — but he still thinks Becca is an amazing person. Unlike other cast-offs and leads in the past, Jason and Becca were sweet to each other. When Jason asked for advice for future relationships, Becca said, "Honestly, you're so amazing and I would never tell you to change anything ... Everything you were giving me was everything I want and it was just down to my heart."
Jason told Becca in response:
I appreciate that. I'm rooting for your happiness, and there's something so special about our relationship that I so hope we can find friendship after this because you're an amazing person and you're going make a huge impact on this world. I have confidence that I'm going to do the same and I hope that we can get to that point. That would be awesome.
Ugh. Could he be any sweeter? Jason clearly wants Becca to find love, and it is so refreshing Methinks Jason is making a pitch to be next season's Bachelor and honestly, fans want it to happen too. Already, Jason said he's very open to love again. He didn't, however, give any hint that he is the next official lead. He said producers have a "long list to choose from," and said any of them would make a great Bachelor. When asked about the possibility, Bachelorette showrunner Bennett Graebner also kept mum about Jason-as-Bachelor in an interview with The Buffalo News.
"Jason would make a great Bachelor," Graebner told The Buffalo News. "And social media seems to agree. He's smart, charismatic, compassionate and successful. The guy's a catch." While Graebner says what Bachelor Nation is thinking, he also didn't give anything away. He said, "Will he be the next Bachelor? It's too soon to say. There are a lot of conversations taking place right now, and a lot more that need to take place before that decision is made."
Well, that's the way it's going to be for the next month or so until the next Bachelor is announced.