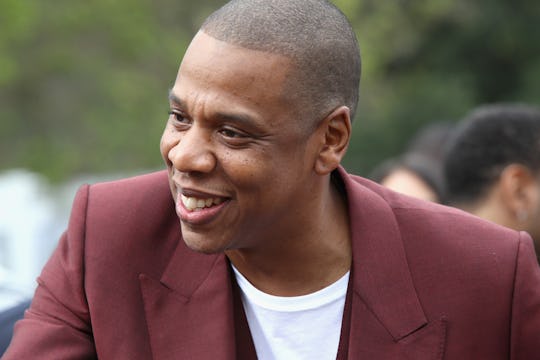 Ari Perilstein/Getty Images Entertainment/Getty Images
What Does JAY-Z Mean By "All The Stillborns"?
Fans can't stop talking about JAY-Z's newest album, 4:44 — and who could blame them. The Brooklyn rapper's 13th studio offering is a deeply personal, deeply complex record that acts as part confessional, part redemption. Since 4:44 dropped at midnight Friday on TIDAL, a lot of questions have been raised about the meaning of its lyrics. Some people have been wondering what does JAY-Z mean by "all the stillborns" in 4:44? The prevailing theory is that Beyoncé has had more than one miscarriage during their marriage, for which JAY-Z is apologizing.
It's an understandable theory when you consider the full verse. According to Glamour, JAY-Z raps on "4:44," the titular title track,
So I apologize / I've seen the innocence / Leave your eyes / I still mourn this death / I apologize for all the stillborns / 'Cus I wasn't pressing / Your body wouldn't accept it
On its face, the verse is revealing. Taking JAY-Z at his word, the "4:44" lyric would mean that JAY-Z blames himself for miscarriages his Grammy-winning wife had experienced. It's not out of the realm of possibility; Beyoncé admitted in her 2013 HBO documentary, Life Is But A Dream, that she had a miscarriage before giving birth to daughter Blue Ivy, 5, in 2012, according to People.
But there's also the chance that the lyric, "I apologize for all the stillborns," is a metaphor for something else. The one great thing about music is that artists can invoke different imagery in order to express a thought or emotion. While fans speculate whether "all the stillborns" refers to multiple miscarriages, Beyoncé and JAY-Z may be having a vulnerable conversation about what that phrase really means.
Whatever the meaning, "I apologize for all the stillborns" is a powerful line. Although no one should feel shame for a miscarriage; pregnancy loss is a difficult and heartbreaking thing to experience. Miscarriages can happen for multiple reasons. According to the American College of Obstetricians and Gynecologists, most miscarriages happen in the first trimester, and 50 percent of those are due to fetal chromosomal abnormalities. Other risk factors for pregnancy loss include age, prior miscarriages, and ectopic pregnancy, among others.
Miscarriages can be devastating. They could also happen to anyone. How JAY-Z feels about the pregnancy loss Beyoncé has experienced is for him and his wife to discuss. But anyone who has had a miscarriage — or is a partner to someone who had — should not feel guilty. It's no one's fault.