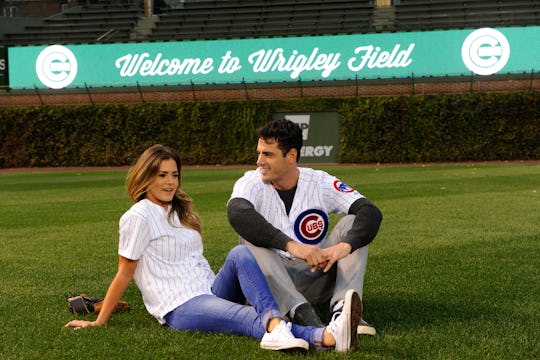 ABC/Jean Whiteside
What Does JoJo Think Of 'The Bachelor'? The Contestant Hasn't Said Much, But That Doesn't Mean Anything
The world knows what they think of JoJo (hint, it loves her), but it's not as clear what Joelle Fletcher, also known as Bachelor contestant JoJo, thinks of her newfound fame. As one of the top four contestants on the 20th season of the hit reality TV show, whether she gets the last rose or not, she's still famous — at least among The Bachelor's huge following. But what remains to be seen for many of the her fans is what does JoJo think of The Bachelor himself?
For the most part, JoJo has remained tight lipped on the topic of Ben Higgins, this season's 'Bachelor', and the focus of four women's attention (let's face it, more like the attention of the whole country's female population ... and more). But many think JoJo will be the one to get the final rose from Ben. That said, until recently, one would probably be more likely to find religious quotes and pictures of JoJo's dog Jackson than references to a growing romance with Ben on JoJo's social media accounts. But the tide seems to be turning. During Monday night's episode JoJo and Ben were seen wearing "Mr. and Mrs. Higgins" Chicago Cubs personalized jerseys at Wrigley Field, for example. If that's not a hint at things to come, I don't know what is. Better yet, JoJo seemed excited, which was cute for the girl who normally doesn't flaunt her relationship with Ben.
We can tell from the many photos taken that night that JoJo might be warming to the idea of taking on the Higgins last name, but why so quiet on the social front up until now? We can only hope J0Jo just wanted to be extra sure Ben was the one before sharing her feelings with the world. Heck, JoJo even took to Twitter Monday night for a little retweet to promote an "incredible date at Wrigley Field" that was about to premier on Monday night's episode.
There's still a little time left for the pair to decide their true feelings for one another — and sorry, I just couldn't leave this one out... JoJo is definitely upping her romance game.
Ok, so I think we all get it. JoJo is warming to the idea of a life with Ben. But the, truth is, she has been a fan favorite for weeks, and viewers were thrilled when she made it into the top four. JoJo rocked right into America's hearts wearing, well ... a unicorn mask. Remember that? But, apparently that wasn't too weird for fans, or for Ben, because JoJo still has a chance at Ben's heart, although she already won ours a while ago.