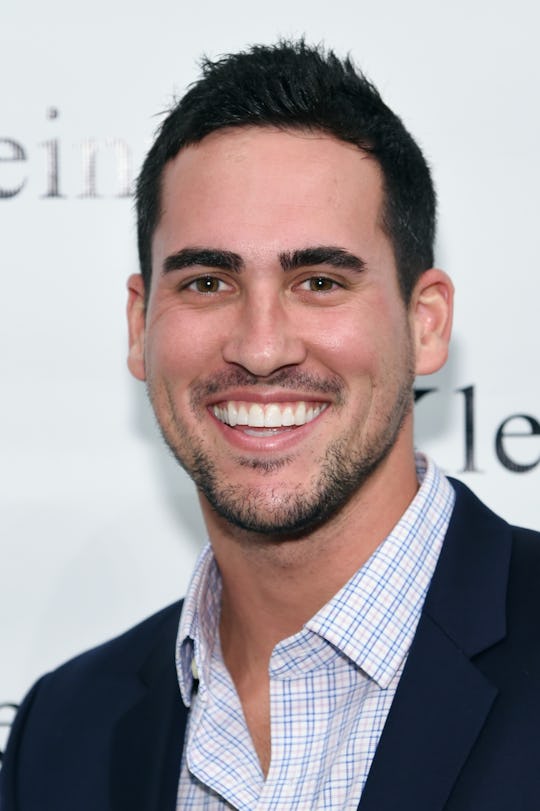 Jamie McCarthy/Getty Images Entertainment/Getty Images
What Does Josh Murray Think Of Nick Viall As 'The Bachelor'? He's Actually Supportive
For as long as we've known Josh Murray and Nick Viall, they've been rivals. Even on Bachelor in Paradise, when they both entered into separate relationships with different women, there was some animosity lingering between them. So what does Josh think of Nick Viall as the next Bachelor? Josh tells Romper that he truly does "wish him nothing but the best in his journey." That's right, the former winner took the high road in his statement about Nick, which you've got to commend.
When asked about his opinion regarding Nick's casting, Josh tells Romper, "After watching the episode when I arrived in paradise, it was obvious to me how they were going to have the season play out. I immediately knew they were setting him up to be the next bachelor. Everyone deserves to find love and I hope he can find just that. Although we have had our differences, I genuinely wish him nothing but the best in his journey."
Instead of shooting insults at Nick via social media, Josh is being supportive of the guy and wishing him luck, which is the sort of response that goes beyond the best case scenario here. Maybe Josh is just happy and in a perpetually good mood because he's reportedly moved in with the woman he built a relationship with this season in Bachelor in Paradise? Or maybe he's just turned over a new leaf — hey, he may be the soon-to-be stepdad to two little girls. Either way, it's hard not to be excited that Josh supports Nick as the next Bachelor. After all, this might be the poor guy's last chance at finding love, because who dates in the real world anymore?
The animosity between Josh and Nick started when they were both the runners-up on Andi Dorfman's season of The Bachelorette. Andi ended up choosing Josh, and they were even engaged and moved in together. But, things took a bit of a turn and — as we all know from watching Bachelor in Paradise — things didn't last.
On Paradise, the who seemed to face of again when they both liked Amanda Stanton, the woman Josh might propose to in next week's finale. It was a true throwback, the two facing off one more time. Things heated up when almost every single contestant brought up Josh's name in regards to Andi's book. Josh, understandably, became frustrated by the fact that he was consistently expected to defend himself for a book he considers "fictional." The two "faced-off" on Monday's episode, but nothing was left on a particularly high note. So, knowing their past, it's actually pretty awesome that Josh had the above to say.
Now that Nick is going to be the next Bachelor, it seems like Josh has found a way to overlook his maybe distaste for his former rival and actually congratulate him. I'm not saying that either of them are going to be best man material for the other, but maybe this is the start of a beautiful truce.