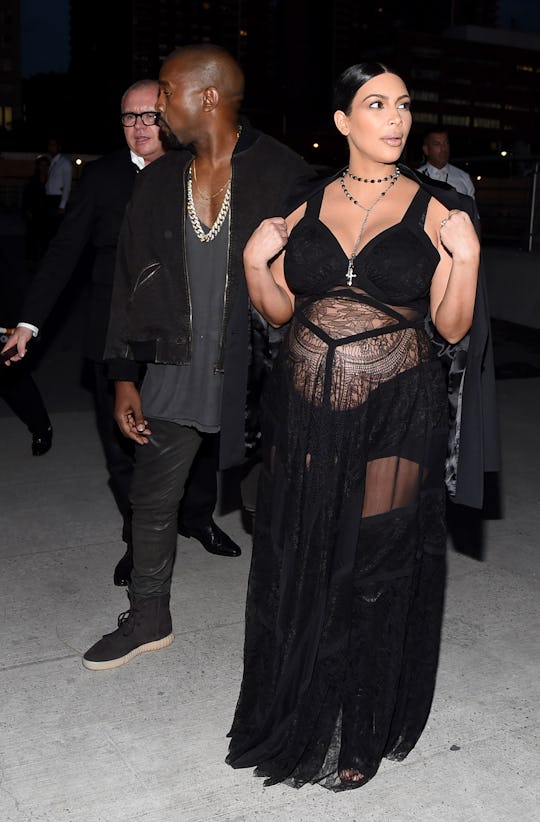 What Does Kim Kardashian's Baby Name Mean? Yeezus Now Has A Son Named Saint, Which Makes Sense
Well, it finally happened: The world's most visible couple finally had their baby boy. But lets be honest, we already knew there was a baby coming, and we already knew it was a boy, so what we've all really been waiting to find out is that baby's name. And now that we know — his name is Saint West — there is one big question left hanging: What does Kim Kardashian's baby name mean?
This is a fair question, considering that this little dude's parents are, after all, two people who don't do anything casually. They are fervently loyal to each other, their families, and their ~brand~, so it's a safe bet that deciding what to name their second child, and first son, is not a thing they did lightly. Like, we can be pretty certain that the process of picking a baby name went far beyond scanning the baby book aisle at Barnes & Noble.
Given how the Kardashian Media Machine™ basically operates on the principle of giving up all the information about their lives, but parceled out in a calculated, protracted way, evenly distributed between their various TV shows, social media accounts, and high-profile interviews over a period of many months, it could be quite a while before all the pieces of what went into picking this particular name come together. But here's what we know so far about the origin and significance of Kim and Kanye's new baby boy's name:
"Saint" — as you probably don't need me to tell you — is "a person who is recognized as having an exceptional degree of holiness, or likeness to God." I mean, we're talking about the son of a person who calls himself "Yeezus" so this is fairly on brand.
The name wasn't released until two days after Kim gave birth, during which time there were plenty of rumors about what they name would be, why there was a delay in selecting/announcing one, most notably that his middle name would be "Robert" after Kim's late father. The latter rumor appears not to be true; no middle name was included in the announcement of Saint's name on Kim's website Monday morning. (Older sister North West also does not have a middle name.)
If there's one thing we already know about Saint West, it's that he's already a lucky and loved member of an ever-growing and obsessively close-knit family. (And considering he's a Kardashian West, I'm sure we'll know a lot more about him very soon.)
Image: Larry Busacca/Getty Images