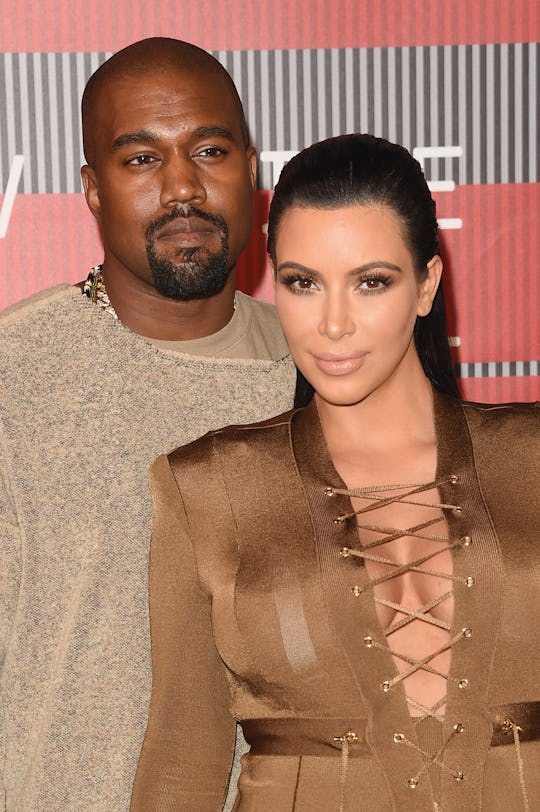 What Does Kim Kardashian's Son Look Like? Photos Of Kim & Kanye West As Babies Should Give Us A Teaser
It finally happened. What seemed like eons after we found out that Kim Kardashian was pregnant with her second child, Kardashian and Kanye West had a baby boy on Saturday, sending the Internet (and Twitter) atwitter, and making us ask the important questions during this day and age. Why did they name their son Saint West? How far in line is he on the Kardashian royal throne? And most importantly, what does Kardashian and West's baby look like? Well, we must look no further than Kim and Kanye's own baby pictures for a clue while we await the picture.
Though, over on Bustle, we've seen some creative takes on what Kardashian and West's new baby boy might look like, much thanks to the always-super creepy baby "if-they-mated" computer generators, we might have a more accurate take on what we can expect from Kardashian baby No. 2 if we look at the sources themselves — Kardashian and West. And what did they look like when they were the same age as their young children? Well, as one would expect, they were pretty darn cute too.
Take the star of Keeping Up With the Kardashians, who looked just like her first-born, North West, as a baby:
Kim Kardashian
Seeing those two lookalikes, it's easy to assume that Kardashian's son's appearance might follow suit. Hopefully, however, he has better fashion sense than baby Kardashian did in the '80s:
Safe to say, though, that he will grow up to be just as cute as the Kardashians were themselves as kids.
But, since we're talking about Kardashian's newborn boy here, will he look more like Kanye?
Kanye West
But, of course, the resemblance we can expect most of all? Kardashian's newborn son and North West herself.
North West
Now, who wouldn't want to keep up with them?
Image: Jason Merritt/Getty; @kimkardashian/Instagram (12)