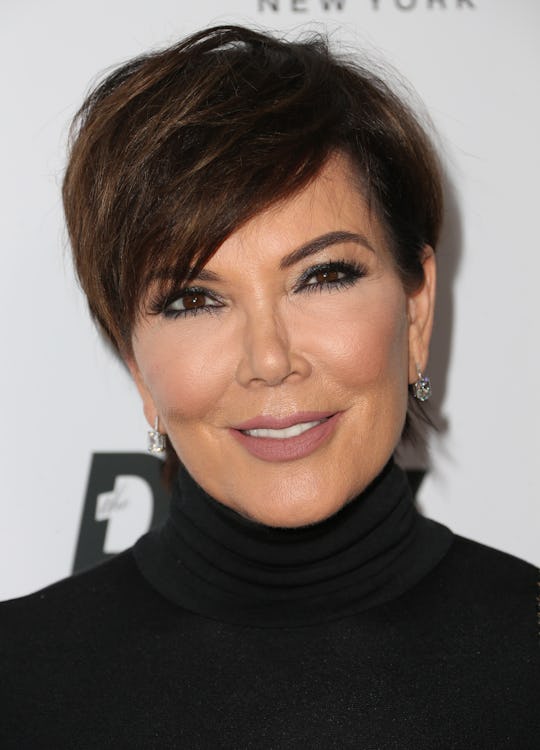 Frederick M. Brown/Getty Images Entertainment/Getty Images
What Does Kris Jenner Think Of Blac Chyna's Baby? She's Supportive Of The Couple
I'm not going to lie to you, guys. The Kardashian/Jenner family dynamic has become endlessly fascinating to me. Perhaps because I, myself, have many children and can so totally understand what it's like to try to navigate the whims and wounds of so many tender souls in your care. I feel for Kris Jenner; I know the accepted wisdom is that she is a bit of a "momager from hell", but it can't be easy, trying to make sure all of her kids are alright — one kid in particular these days. So what does Jenner think about Blac Chyna's baby, whose father is the recently reclusive (and, sorry to say it, ultra spoiled) Rob Kardashian?
You all know the story, I'm sure. Blac Chyna is the ex-fiancee of Kylie Jenner's recent ex-boyfriend, rapper Tyga. The family was reportedly none too impressed with Rob's apparent decision to "go against the family" by dating someone who haas caused problems for one of their own in the past. Tyga and Blac Chyna have a little boy together, King Cairo, and have both been pretty open about their toxic relationship in the past. One can maybe understand why the Kardashian/Jenner family weren't over the moon with Rob's new girlfriend, as evidenced by Khloe Kardashian's Godfather-style "Never go against the family" Instagram pic.
Luckily for Rob, his mom Kris Jenner is a little softer on the subject. During a phone interview with Kyle and Jackie O, an Australian radio show, the famous mom opened up about her son, saying,
He's doing really, really well. He feels much better about himself. He's trying to just get healthy and get in shape, and he's been working on a few projects and we celebrated his birthday last night at Nobu Malibu with the family. It was really, really great.
Kris is apparently excited to see the healthier, happier new Rob and credits Blac Chyna with much of the change. Rob spent many years as a recluse, living with his mother or sister Khloe, not working, and no longer participating in the family's reality television series, Keeping Up With The Kardashians. Since Rob's relationship with Blac Chyna began, he has reportedly lost 65 pounds, has started working as a sock designer for Arthur George, and is spending more time with his family.
According to Entertainment Tonight, a source close to the family revealed that Kris is "thrilled to have another grandchild" and happy to put any issues in the past.
Kris has an interesting history of being pretty easy on the young men in her life. When daughter Kourtney and her husband Scott Disick broke up, Kris was quick to defend Scott on KUWTK, and the same was true for Khloe and her ex-husband, Lamar Odom, despite the strain it reportedly put on her relationship with her daughters. Kris has spoiled her only son, Rob, especially, recently buying him a $2.3 million dollar home in the ritzy Calabasas estate where the rest of the family lives after sister Khloe gave Rob the boot. So it probably doesn't come as much of a surprise that Kris is feeling positive about her golden boy.
It's sort of amazing that Kris is still all warm and fuzzy about Blac Chyna and Rob after the couple mocked Kris on Instagram for stocking food they didn't like in Rob's house. Yeah... really. Kris was reportedly hurt, but rolled with it. As she seems to be rolling with everything those crazy kids throw at her these days.
I guess that's what moms do, right?