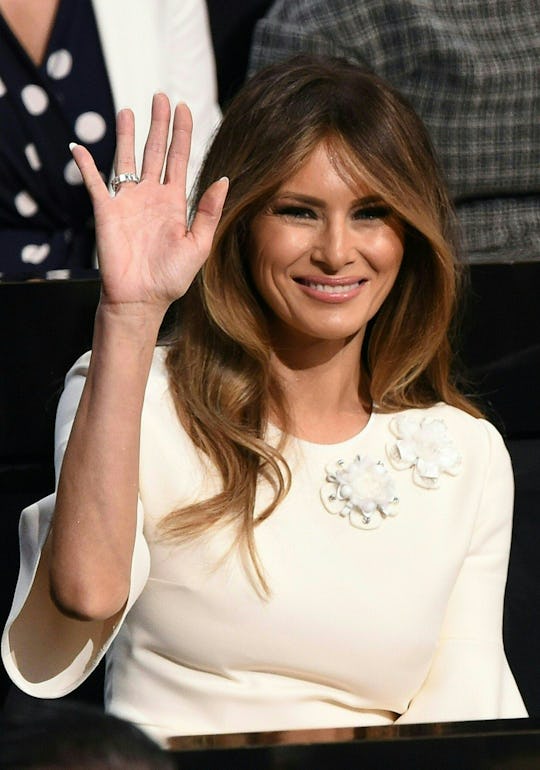 ROBYN BECK/AFP/Getty Images
What Does Melania Trump Do Now? She's Focused On Her Son Barron
Melania Trump is a former model from Slovenia, a mom, and jewelry and watch designer. She is also married to real estate mogul Donald Trump, the Republican presidential nominee. What does Melania Trump do now professionally? The woman hoping to be America's next First Lady focuses on raising her 10-year-old son Barron.
The Slovenian-born former model has mostly stayed outside the political spotlight during the presidential campaign trail – until she delivered a speech on the opening night of the RNC earlier this month that would later become the center of controversy, and countless memes. The speech lifted passages from First Lady Michelle Obama's 2008 speech at the DNC. After days of speculation and denial from the Trump campaign, a Trump speechwriter later released a statement acknowledging the plagiarism.
But prior to the now infamous speech, Melania explained to Harper's Bazaar in January, why she opted to stay out of the spotlight:
Because of who my husband is, and our life, and also he is number one in the polls—well, you take that all together, and people are very curious about me. I'm choosing not to go political in public because that is my husband's job. I'm very political in private life, and between me and my husband I know everything that is going on. I follow from A to Z. But I chose not to be on the campaign. I made that choice. I have my own mind. I am my own person, and I think my husband likes that about me.‌
The jewelry designer also told Harper's Bazaar that she put some of her business endeavors, like her skin-care line (including a caviar moisturizer) and her timepiece and jewelry collections for QVC, on hold to focus on Barron while Trump continues the campaign trail.
"Fashion is a tough business," she said. "I have a lot on my plate right now, and I'm busy enough. I don't have a nanny. I have a chef, and I have my assistant, and that's it. I do it myself. You know, those hours with your child are really important ones, even if it's just the two of you, being quiet in the car together."
In an interview with Parenting.com last year, Melania shared some details about her jewelry line, naming a bracelet she designed as a replica of a bracelet her parents gave her as a child as her favorite piece in the collection. She also told Parenting.com that she designs pieces in her collection herself:
I am the art director and designer. I sketch – I love to put the pen to paper and start a piece from scratch. I design the things I love. I studied design and architecture and that's what I really like to do. It's a passion of mine. That passion is what brought me to create the jewelry and timepieces.
As for her role on the campaign trail, according to recent polling data by Gallup, Melania polls at a 28 percent favorable rating and 32 percent unfavorable. Although Melania has indicated that her main focus is raising Barron, it will be interesting to see what the potential first lady will do on the campaign from now until November.