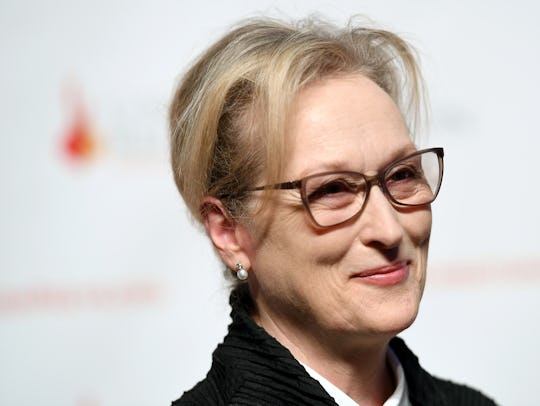 ANGELA WEISS/AFP/Getty Images
Meryl Streep Won't Be Happy With Trump's Response
Donald Trump fired back at Meryl Streep's unflinching criticism of his tactics of belittling and denigrating others and and attempts to discredit the press by calling the actress, who delivered the powerful statement while accepting a prestigious lifetime achievement award at the Golden Globes ceremony, "over-rated" and a "Hillary flunky who lost big." The actress's comments, however, were the highlight of the evening for many who commended her for using her high-profile platform to speak truth to power in turbulent political times. But what does Meryl Streep herself think of Trump's response to her speech — and, more importantly, does the three-time Oscar winner even really care?
Since her show-stopping speech Monday night, during which she did not once mention the president-elect by name or position but nevertheless called him out for imitating a disabled New York Times reporter while campaigning, Streep has not offered any addendums. She doesn't need to, after emotionally delivering such timely and terrifyingly poignant observations:
And this instinct to humiliate when it's modeled by someone in the public platform, by someone powerful, filters down into everyone's life because it kind of gives permission for other people to do the same thing. Disrespect invites disrespect. Violence invites violence.
Trump, on the other hand, almost immediately took to his favorite platform, Twitter, to blast the well-respected actress, as well as granted an interview to The New York Times in which he claimed not to have watched the award show, anyhow — and again denied mocking the journalist, Serge F. Kovaleski, in 2015.
"People keep saying I intended to mock the reporter's disability, as if Meryl Streep and others could read my mind, and I did no such thing," he told the newspaper, referring to a speech in which he flailed his arms while imitating Kovaleski, who has a chronic condition, talking about an article he wrote in 2001.
His Twitter reaction to Streep's widely lauded speech mirrored these sentiments, with the president-elect quick to refer to Streep's having introduced his presidential opponent, Hillary Clinton, at the Democratic National Convention in July.
Absent any response from Streep on the denials and name-calling Trump has issued in her speech's wake, we can take her own words from the monumental address to glean some insight about what might be going on in her head as she observes the aftermath: "...When the powerful use their position to bully others, we all lose."
But while Streep has chosen the dignified and, at least as of yet, opted not to engage with the man who will become the most powerful person in the world upon his Jan. 20 swearing-in, Trump has seized the opportunity to fight back against the notion that he's especially unpopular with entertainers. This, of course, stems in no small part to the fact that his team has been struggling to convince any big names to perform at his upcoming inauguration.
"We are going to have an unbelievable, perhaps record-setting turnout for the inauguration, and there will be plenty of movie and entertainment stars," he told theTimes with characteristic hyperbole. "All the dress shops are sold out in Washington. It's hard to find a great dress for this inauguration."
In contrast to Trump, Streep does not need to reiterate her achievements and work to convince others to like her. Perhaps that's why she spent exactly zero time reflecting on the many, many movies in which she has starred to earn the Cecil C. DeMille lifetime achievement award, or the countless other accolades she's garnered throughout her career. Instead, Streep chose to speak up for those Trump has disparaged — including the news media and foreigners — and to remind the country of the values for which it really stands.