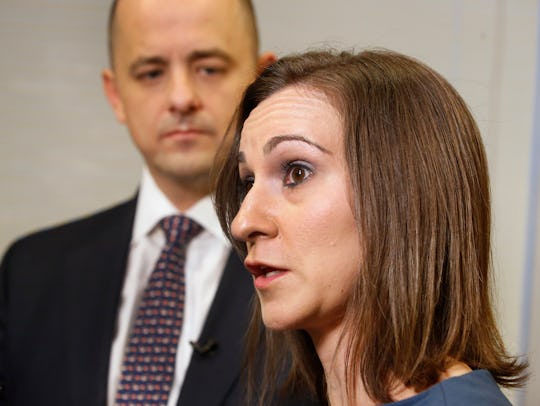 GEORGE FREY/AFP/Getty Images
What Does Mindy Finn Do? She's Running For Vice President, For Starters
Most of us probably hadn't heard of Mindy Finn until a few months ago, especially those of us not well-versed in the world of conservative politics. And for those of you who still haven't heard of her, get ready. I have a strong feeling she's going to be in the news quite a bit over the next while as the country moves on from one of the most contentious general elections in the history of the United States. Mindy Finn is a vice presidential candidate running as an Independent in Utah alongside presidential candidate Evan McMullin. And she and McMullin are looking to change the face of American conservatives one frightened Republican at a time.
Before Finn decided to join McMullin's Independent ticket, she was a heavy hitter among the movers and shakers in the political world. She worked on Mitt Romney's 2008 political campaign as director for digital strategy. She moved on from Romney's campaign to become co-founder of the digital communications firm Engage and was named one of The Washingtonian's Tech Titans of 2011 (11 leaders of Washington's digital world). After making a name for herself as a top political and media strategist, in 2015 she went on to create the non-profit Empowered Women, which describes itself as such:
Empowered Women gives voice to a new generation of American women. We are a positive, proactive platform that celebrates women as individuals who deserve an equal opportunity to live a fulfilled life as they define it.
Now, Finn wants to be your vice president.
So why did Finn, a well-respected Republican, decide to try her hand as an Independent with McMullin (she and McMullin formally announced their bid for the general election on Aug. 8)? As she wrote in an editorial for HeatSt.com, she and her running mate are fed up not only with Republican presidential nominee Donald Trump but the entire GOP:
Every election prompts the losing party to conduct an "autopsy" on the campaign, struggling to learn what went wrong. Usually, it consists of a lot of navel gazing, followed by patting each other on the back, before finally filing the document away and declaring that lessons have been learned. Consider the primary message of Mitt Romney's loss in 2012: Republicans need to do a better job respecting and responding to the issues of minority voters. That lesson was not just ignored; it has been devastatingly abandoned. Mr. Trump is historically unpopular with women and minorities, and deservedly so. He hasn't just ignored minority outreach and issues, he's overtly antagonized and insulted them.
Finn went on to write that she chose to stand as McMullin's running mate because "Evan is proving that true conservative principles still resonate with the American people."
While the likelihood of a McMullin/Finn ticket winning the general election at this point isn't exactly feasible, the two have made enormous strides: Recent polls show the Independents have a strong shot at winning Utah, which could help to deny either Trump or Clinton the 270 electoral votes they would need to clinch the presidency. They are getting support from inside the party as well, with Arizona Sen. Jeff Flake (R.) recently announcing that he might vote for McMullin.
Whatever the outcome of the election on Nov. 8, Finn and McMullin are making it clear they have no intention of going gently into that good night, as Finn said in her editorial for HeatSt.com:
No one knows if the Republican Party will ever find its principles again. For anyone who's tired of waiting to find out, there is another option: a grassroots conservative movement that isn't willing to wait any longer to stand up for what is right.