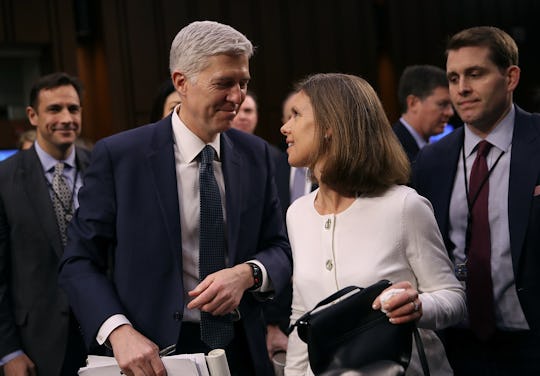 Justin Sullivan/Getty Images News/Getty Images
What Gorsuch's Wife Thinks Of His Courtroom Decisions
Judge Neil Gorsuch's confirmation hearing for his potential role as a Supreme Court justice is currently underway. Throughout the past week, Gorsuch has had to face rigorous questioning from senators about his court opinions and his potential contributions to the Court. But while the Senate's opinion on Gorsuch is incredibly important, at the end of the day, Neil Gorsuch has a tight-knit family — and their opinion matters, too. So what does Neil Gorsuch's wife think about his court opinions?
Neil Gorsuch's wife of over 20 years, Marie Louise Gorsuch, with whom he has two daughters, has been loyally by his side since Trump announced that Neil was his pick for the Supreme Court. Throughout his confirmation hearing, Marie Louise has stood with her husband, looking on as he answers questions about his court opinions and his time as a judge.
Gorsuch is an originalist when it comes to the Constitution, according to ABC News, meaning he believes in interpreting the Constitution as it was written. And while Marie Louise has never explicitly stated what she thinks about her husband's originalist viewpoints (she remains a pretty private person outside of her recent public appearances), specifically his rulings from his time as a 10th Circuit Appeals Court judge, it is clear that she fully supports him in everything — which more than likely means his court opinions are part of that package deal. (Spokespersons for Gorsuch did not immediately respond to Romper's request for comment.)
On Monday, during his opening statement for his confirmation hearing, Gorsuch took the time to specifically thank his wife and her loyalty to him, according to Fox News Insider. "The sacrifices she has made and her open and giving heart, they leave me in awe," he said of his wife. "I love you so much." Marie Louise's dedication to her husband has also been made clear in the acknowledgements section of his book, The Future of Assisted Suicide and Euthanasia, where Neil thanked his wife and his children for their love and "constant attention."
Generally speaking, Neil's opinions are traditionally conservative, according to Fortune. Neil's court opinions have led him to side with corporations rather than individuals, according to Sen. Elizabeth Warren. Gorsuch's court opinions also show that he sides with mostly conservative values, such as religious rights, and according to CNN, Gorsuch, Marie Louise, and their children are quite religious and worship in an Episcopal church.
While Marie Louise Gorsuch remains quiet and private, it is clear that she is loyal to her husband and all of his endeavors. Whether that means she's on board with all of his courtroom decisions is anyone's guess, but taking into account how close the two are, it's a safe bet she's backing him on those, too.