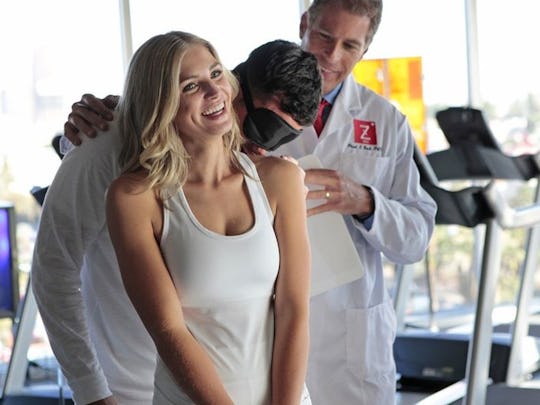 Rick Rowell/ABC
What Does Olivia's Family Think Of Her On 'The Bachelor?' They Have Her Back Even When Fans Don't
Olivia Caridi is causing lots of drama on The Bachelor this season. From the very beginning, she was on the top but in the most recent episodes has been at the very center of attention. Some in Bachelor Nation are starting to think that she likes it that way. But Olivia's family is watching The Bachelor, too, and they have a lot to say to the haters. The message coming from Camp Caridi is: leave our girl alone.
Olivia's mother, Dana Caridi and Olivia's sister, Paige, are most definitely watching the show. They are active tweeters on Monday nights, especially when fans are dissing their daughter and sister. During the episode when Olivia was getting trashed for her toes, her sister Paige was ready on social media. She wrote, "Can't believe how much @BachelorABC schemes and twists everything to make drama. And how many bullies there are. Shameful." She finished with some cheers, "Stay strong Liv!"
Mama Caridi is on her daughter's side, too. She actively retweets comments about Olivia from fans who are taking her daughter's side. Since Olivia has been the source of some contempt from Bachelor fans, Dana is happy to spread any support her daughter gets. She recently retweeted a link to a Jezebel article about how the producers of the show "create" characters. She also likes when viewers notice that the camera is too focused on the new Bachelor "villain." Paige has friends to back her up while she watches, too.
It must be hard for family to watch the show. Especially because Olivia has gained a lot of haters, whether it's due to "reality TV edits," as her sister puts it, or just how fans perceive her. Olivia has not had very many easy moments since she snagged the first rose in the premiere. In fact, it's been sort of all downhill from those first hours. The other girls in the house constantly gossip about her agressiveness in getting time with Ben. She broke down in Las Vegas on a group date and once cried about her cankles, provoking memes and snark from viewers.
This past week in Mexico, she told the cameras that "it's not even a want anymore. I need him." That was after she made fun of Amanda Stanton for having children. It's that sort of intensity that has been turning Bachelor Nation off.
When it comes to reality competition shows like The Bachelor, it's hard to not pick favorites. Often, the contestants' behavior is as much curated by the shows producers as it is also just showing their true colors. Isn't it hard to imagine what you might say to an ABC camera after a few cocktails and some cat fights with other women, while you vie for Ben Higgins' attention? Olivia might just be being herself, but it's a lot of pressure. If anything, it's better not to stoop to making fun of someone's feet or their nervous ticks, like Olivia's now famous jaw drop. Her mom, sister, and the rest of her family is watching. Don't be mean. If Ben keeps giving her a rose, there must be a reason.
Image: Rick Rowell/ABC