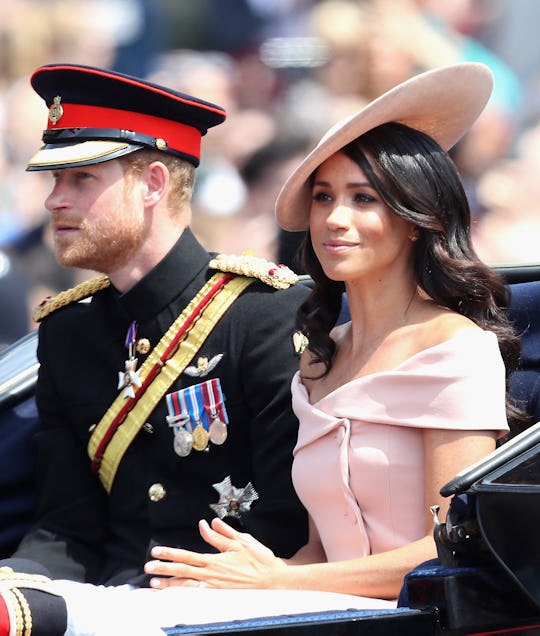 Chris Jackson/Getty Images News/Getty Images
Meghan Markle's Dad *May* Have Revealed Prince Harry's Thoughts Of President Trump
In the United States, it's probably safe to say that most people are divided over politics. It's a polarizing time for the country, whether you support the current administration or not. However, it's interesting to wonder what people on the outside think of everything that's going on, especially when it comes to a certain family of royals from across the pond. After his nuptials to an American, a new report may have revealed the answer to a question many have been wondering: What does Prince Harry think of Trump? His true feelings about the President may surprise you.
Thomas Markle, Meghan Markle's father, reportedly had a conversation with his new son-in-law, during which he claims that Prince Harry allegedly told him to give President Donald Trump a chance and see how he does, according to The Guardian. "I've always have a bad attitude about Donald Trump and that's never going to change," Mr. Markle said, according to The Guardian. "My God, I've got to apologize to the rest of the world for my president. All Harry actually did was say because Trump was new, he said: 'Give him a chance.'"
However, CBS News reported that Mr. Markle also noted that this alleged conversation happened a while ago, and Prince Harry's opinion could have changed since then. "I think Harry has probably changed his mind by now — I certainly hope he has," he said, according to CBS News. Romper's request for comment from the royal family was not immediately returned.
Of course, it stands to be reminded that the royal family conducts themselves with a policy of diplomacy at all times, that's especially true when it comes to foreign leaders and international relations. Even if Prince Harry did harbor any doubts or grievances with President Trump, it's extremely unlikely that he'd vocalize those, for the sake of his role in the family and country.
That said, it is interesting to hear what members of the royal family are allegedly saying about U.S. politics in private. (The ethics of whether or not those conversations should be broadcasted are, of course, debatable.) As many onlookers will recall, President Trump was not invited to the royal wedding, but don't be so quick to call it a slight: no world leaders were. TIME reported that the Queen's council decided it was unnecessary to invite political leaders, both domestic and international, to the nuptials of Prince Harry and his brand new wife, the Duchess of Sussex, Meghan Markle.
This is not the first time in recent history that Markle's father has landed himself in the middle of media scrutiny. The Daily Mail reported that just before the wedding, Thomas Markle allegedly staged photos in order to sell them to the paparazzi, and then after a lot of back and forth, ultimately wasn't able to walk Meghan down the aisle, due to a health condition, The Sun reported.
However, it seems that Mr. Markle is at peace with the fact that he wasn't able to attend, and is happy for his daughter regardless. In the same interview, Harper's Bazaar reported he shared: "I absolutely wanted to walk my daughter down the aisle," but that he was "honored" Prince Charles did it for him, saying:
I can't think of a better replacement than someone like Prince Charles. He looked very handsome and my daughter looked beautiful with him. I was jealous, I wish I had been there, I wish it had been me. But thank God he was there.
As for politics, it seems that the royal family otherwise stays mum. Harper's Bazaar also reported that it's a rule that they can't publicly voice their political views, nor are they allowed to vote. Newsweek explained that it's considered "unconstitutional" for the Queen to vote, and that sentiment naturally extends to her children and grandchildren as well.
While it means that the world probably won't know what the royals really think of U.S. politicians, this alleged conversation seems to prove that Prince Harry has perfected his ability to respond to anything diplomatically.