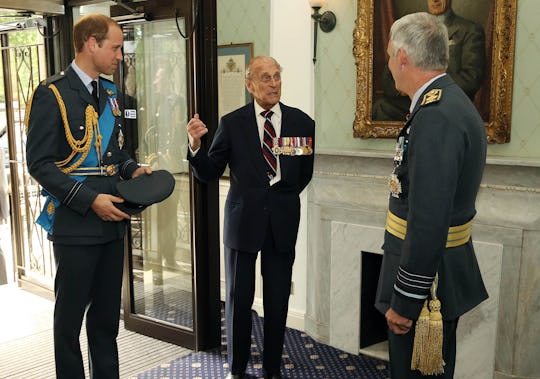 WPA Pool/Getty Images Entertainment/Getty Images
What Does Prince Philip Stepping Down Mean For Prince William?
There may be a big shakeup coming to Buckingham Palace. On Wednesday morning, it was announced that it was announced that Queen Elizabeth II's husband, Prince Philip, would no longer be carrying out royal engagements. It is a decision that affects the entire Royal Family, and many are wondering what does Prince Philip stepping down mean for Prince William?
According to the BBC, Prince Philip will be retiring from his royal duties starting September and will carry out any previously scheduled engagements until the end of the august. The BBC adds that Prince Philip, who will turn 96 in June, made the decision to step down after receiving full support from his wife, Queen Elizabeth II.
An official statement was released by Buckingham Palace after the decision was made and read:
"His Royal Highness The Duke of Edinburgh has decided that he will no longer carry out public engagements from the autumn of this year. In taking this decision, The Duke has the full support of The Queen. Prince Philip will attend previously scheduled engagements between now and August, both individually and accompanying The Queen. Thereafter, The Duke will not be accepting new invitations for visits and engagements, although he may still choose to attend certain public events from time to time."
Upon the release of the news, many are wondering why Prince Philip is stepping down after standing by The Queen's side for her 65 year reign and partaking in more than 22,191 solo engagements, according to The Royal Family twitter account. Though no official reasons has been cited for the sudden retirement, many speculate that it's due to Prince Philip's age and potential health problems.
Many are wondering how this decision affects other members of the Royal Family. As the matriarch, The Queen will continue to carry out official engagements, according to CNN. And although Prince Charles is next in line for the throne and, thus, likely to gain more responsibilities as a result of Prince Philip's retirement, people are most concerned about what this news means for Prince William.
A look at the 34-year-old Prince's schedule shows that he may be preparing to take on more responsibilities following his grandfather's retirement. In January, the BBC reported that Prince William would be leaving his air ambulance job in the summer to take on more royal duties. This decision came around the same time that The Queen retired from 25 patronages, some of which she passed down to the Duke and Duchess of Cambridge, according to ET Online.
As of March, Prince William attended royal engagements on 12 days in 2017, including "a trip to south Wales, a gala dinner, and an investiture at Buckingham Palace," according to the BBC.
Only time will tell how Prince Philip's retirement affects the the Royal Family and Prince William specifically. But is his new schedule is any indication, it seems Prince William is about to be a whole lot busier come September.