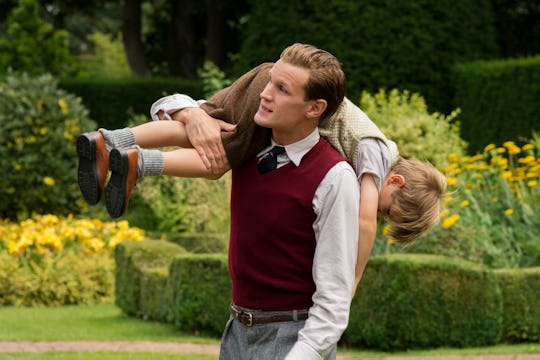 Alex Bailey/Netflix
What Does Prince Philip Think About 'The Crown'? The Royals Aren't Saying Much
Biographical dramas are tough. When you're basing a piece of fiction on real events and real people, it's obviously difficult to balance the scales between historical accuracy and entertainment. It's uniquely hard to manage this when your subjects are still alive — there's that much more of an urgency to fairly portray them. Netflix's new series The Crown, which debuted on Nov. 4, definitely has this challenge. It follows Queen Elizabeth II's early reign and her personal life. The show's first season closely focuses on the Queen's marriage, so we have to wonder – what does Prince Philip think about The Crown?
Interestingly, the historical series surprised viewers by presenting a version of Prince Philip very different from the public's perception. Far from an unfeeling or emotionally distant parent, the Telegraph has commented on the Queen's long-time husband being portrayed throughout Season 1 as a "doting dad" and even a "touchy feely" kind of guy. Suzanne Mackie, a producer for the show, explained how thrilled she was that Peter Morgan's scripts for The Crown avoided "easy stereotypes" about the Duke of Edinburgh and that she believes he's been often misunderstood. Mackie also noted that she'd "love for [the Royal family], if ever they watch [The Crown], to think I'm proud of what we've done for Philip."
For their part, the royal family has kept quiet — in fact, upon reaching out, the Royal Family declined to comment on the show to Romper. So for now, all viewers have are the speculations of third-parties regarding how the Queen or any other members of the family feel about the show. At a press conference at the Television Critics Association back in July, Morgan claimed that the family is "very, very aware" of the series and that Netflix was attempting to get the Queen's endorsement. He also speculated that the royal family was "very nervous and very excited" about the show, explaining that they might not like not having control over the show's interpretation, but are probably aware that a drama taking the subject seriously is a rarity.
But just because no one has offered an official statement doesn't mean they don't have input. According to Prince Philip portrayer Matt Smith's interview with Hello!, Prince William offered him advice about his role when the two met at a charity polo match. "He said, 'just one word – legend,'" Smith said. "And he's right, Philip was a bit of a rock star, really."
Smith's "legendary" performance as Prince Philip is all but sure to garner him some early awards buzz!