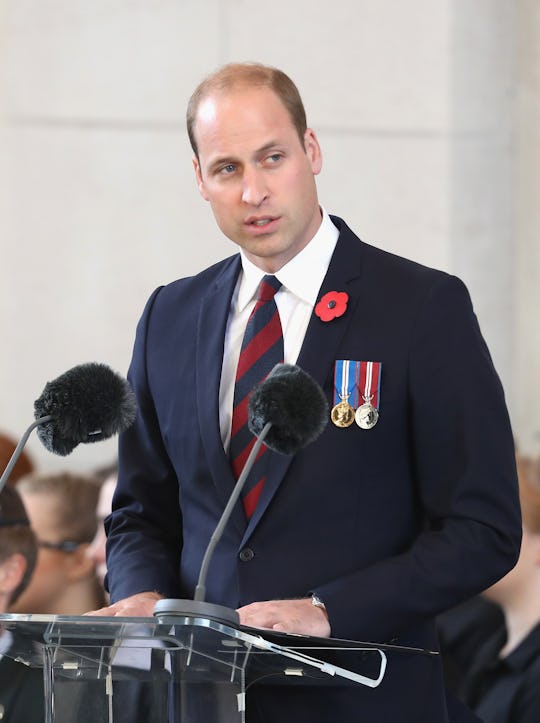 Chris Jackson/Getty Images Entertainment/Getty Images
What Does Prince William Think About ABC's Special 'The Story Of Diana'?
To mark the 20th anniversary of the passing of Princess Diana, ABC is airing a two-night documentary about the Princess' life and legacy. The documentary will contain commentary from People and Entertainment Weekly Editorial Director Jess Cagle, as well as Diana's younger brother, Charles Spencer, and many others. However, what does Prince William think about The Story of Diana documentary? It's a sensitive subject, even all of these years later and he's bound to have some thoughts. Upon reaching out, the Royal Family declined to comment on the ABC special to Romper.
At this time, Prince William hasn't let his thoughts about the new documentary be known. However, he and his younger brother, Prince Harry, opened up about their mom in a different documentary released earlier this summer, titled Diana, Our Mother: Her Life and Legacy. In that documentary, the brothers gave insight into who Dianna was as a mother and what is was like growing up with her and then losing her at such a young age. "This is the first time that the two of us have ever spoken about her as a mother," Prince Harry said. "I would say this, she was the best mum in the world. She smothered us with love, that's for sure."
William was 15 and Harry was only 12 when their mother died in a tragic car accident in Paris, France, on August 31, 1997.
Dianna was riding in the car with her friend, Dodi al-Fayed and chauffeur, Henri Paul, who the courts later found negligent in Princess Diana's death. However, more than 10 years later, another court ruled that the accident was due to both Paul's drinking as well as the paparazzi who allegedly chased them through the Pont de l'Alma tunnel, where the car crashed.
Since then, people have been obsessed about what really happened that night and there have also been conspiracy theories about whether or not Princess Di was murdered. Despite the questions that still surround her death, it is Dianna's life that she is still most remembered for.
The Princess of Wales was known for dedicating her life to various different charities, a legacy her sons continue to this day with their own organization, The Royal Foundation, which Prince William's wife, Kate Middleton, also helps run.
Though Prince William and Prince Harry won't be in the new documentary, The Story of Diana will include comprehensive interviews with others who knew her well, along with leading Diana experts. The two-night event will also include archival footage of the "People's Princess" that many have never seen before. You definitely won't want to miss it.