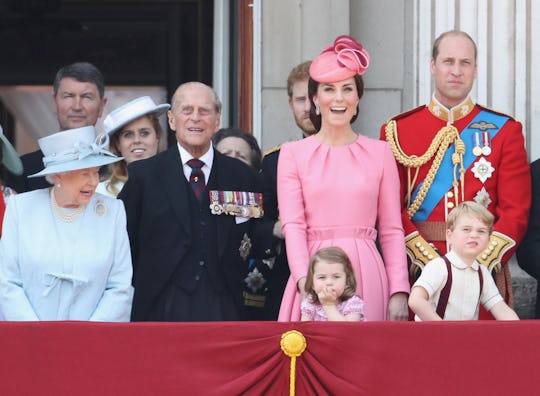 Chris Jackson/Getty Images Entertainment/Getty Images
Ever Wonder How 3-Year-Old Princess Charlotte Addresses The Queen? Here's What We Know
There's a certain mystique that follows the royal family. As such, it's only natural to wonder about their daily lives and their whole family dynamic. Like what do they eat dinner together every night? And how do they refer to each other? For instance, does Princess Charlotte call the queen anything sweet and special — like kids tend to do with their grandmas and great-grandmas — or does the 3-year-old have to refer to her as Her Majesty all the time? I don't know about you, but for me, it's pretty interesting to think about.
Consider, just for a moment, that you get to meet the queen? What would you say? How would you act? More importantly, though, what would you call her? While it might seem obvious to refer to her simply as "Your Highness," or "Queen," it isn't that simple. According to the official royal family website, you're not required to actually formally address the queen, but it's considered protocol to call her "Your Majesty."
Of course, if you're the queen's great-granddaughter, the rules are a little different. Especially if you're an adorable 3-year-old with a known reputation for sass. So, what does the young princess call her great-grandmother?
Though it's unknown what exactly Princess Charlotte calls the queen, Kate Middleton did once reveal that at least one of her kids has a nickname for their great-grandma. According to Middleton, as Hello! Magazine reported, the toddler's older brother, Prince George, calls the queen "Gan Gan."
Whether the young princess has also adopted this same nickname for the queen is unknown at this point, but it wouldn't be surprising. When Middleton revealed what her son called the queen, it was when the young boy — who is now almost a 5-year-old prince — was just 2 years old. Back in 2016, Middleton sat down to do a televised interview in honor of the queen's 90th birthday. And in that interview, the mom spoke about Queen Elizabeth's relationship with her children. According to Hello! Magazine, she said:
George is only two-and-a-half and he calls her "Gan-Gan." She always leaves a little gift or something in their room when we go and stay and that just shows her love for her family.
With that said, it seems likely that Princess Charlotte also has a special name for the queen, although it's unclear what exactly that is. However, based on Prince George's nickname for his great-grandmother, it wouldn't be surprising if the young princess' moniker for the queen was equally as adorable. But, if your curiosity is getting the best of you, and you just really want to know what Princess Charlotte might call Queen Elizabeth, then take a look at what other royals have called the monarch.
Back in 2012, at the summer Olympic Games in London, the queen made a surprise appearance alongside Daniel Craig in a James Bond spoof. Her appearance was such a surprise, in fact, that both Prince William and Prince Harry were shocked at seeing their grandmother alongside Craig and reportedly shouted out, "go Granny!" according to The Telegraph. So it seems like those two prefer to call the queen "Granny," which is really pretty adorable. Additionally, according to the Daily Mail, Prince William called his grandmother "Gary," when he was very young and wasn't able to say "Granny." So maybe Princess Charlotte takes after her dad and calls the queen "Granny," or even "Gary." Both are adorable.
More so, Prince George and Princess Charlotte reportedly have a nickname for their own grandmother, Camilla Parker Bowles. According to the International Business Times, the Duchess of Cornwall likes to be called "Ga Ga" by her grandchildren.
Indeed, there are a lot of options for Princess Charlotte to choose from if she wants to call Queen Elizabeth something other than "Your Majesty. Maybe one day the world will find out what exactly the 3-year-old princess has nicknamed her great-grandma. In the meantime, I'm voting for Gary.