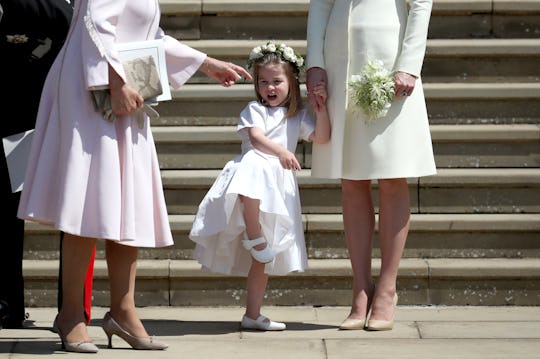 WPA Pool/Getty Images Entertainment/Getty Images
You Have To Hear How Princess Charlotte Ran The Show At The Royal Wedding
There's really nothing sweeter than seeing little kids come into their own. Whether it's a toddler learning their letters or a first-grader learning to read, watching youngsters take charge is simply endearing. And now, it's been reported that at Saturday's festivities across the pong, Princess Charlotte took her royal wedding duties very seriously, and it's basically the best thing to come out of England since the Duke and Duchess of Sussex.
Now, if you somehow missed the royal wedding, then hopefully you've been able to catch up online since Saturday. If not, allow me to fill you in: Meghan Markle looked perfect in her wedding dress, the couple had their fair share of adorable moments — including Prince Harry wiping away tears during the ceremony — and all the young bridesmaids and page boys were too stinking cute.
So, now that a guest who was at the royal wedding is talking about how well Princess Charlotte was handling her royal duties, looking back on all that happened on Saturday just got so much better. According to a source who was lucky enough to attend the wedding and spoke to People, Princess Charlotte was basically the queen of the kids on Saturday, making sure none of her fellow bridesmaids or page boys messed up Markle and Prince Harry's big day.
Now, even though Princess Charlotte is still pretty young, the 3-year-old definitely knows her way around a wedding. After all, it was only a little over a year ago when the toddler took center stage at her aunt Pippa Middleton's wedding to financier James Matthews in May of 2017. Then, too, Princess Charlotte performed her royal duty by being her aunt's bridesmaid, and Prince George was a page boy as well.
So clearly, Princess Charlotte has some bridesmaid experience to look back on. Because of that, it makes total sense that the wedding guests would be able to see the young princess' talent at walking down the aisle. According to one guest who spoke to People:
She was really sweet. There was one girl who wanted to go and she said, "No you can't go yet. We have to wait until we are asked." She was really organized!
Basically, for those of us that have seen Princess Charlotte grow up, our suspicions that she's perfectly smart, sassy, and silly have been confirmed. Princess Charlotte obviously knows what she's doing, and she isn't afraid to stand her ground and give directions.
But really, Princess Charlotte had to deal with a lot on Prince Harry and Markle's wedding day, and for a 3-year-old, having to sit still, look nice, and be quiet for a long amount of time is pretty hard. Oh, and on top of the wedding ceremony, the toddler also had to sit still for photographs after the fact.
And, seriously, the photos released by Kensington Palace of the happy couple's wedding day were all completely adorable and gorgeous, which begs the question of how the photographer got the kids to cooperate. Really, all moms out there know how hard it is to get their kids to sit still for pictures, so after seeing those official wedding portraits, parents everywhere are probably wondering how that was even possible.
It's not like the photographer, Alexi Lubomirski, got the perfect shot on the first try. It probably took a while to get the ideal image, and with 10 kids in the shot, it's kind of miraculous that it turned out so flawlessly. And as well-behaved as Princess Charlotte is, and despite how seriously she took her role as bridesmaid, Lubomirski actually had to bribe the children with candy in order to perfectly capture the happy family, according to Town & Country.
But at the end of the day, both Prince George and Princess Charlotte definitely earned some candy for adorably executing their royal wedding duties.