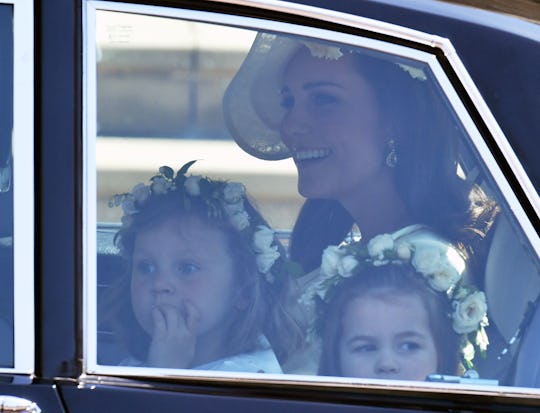 WPA Pool/Getty Images Entertainment/Getty Images
These Photos Of Kate Middleton Wrangling The Kids At The Royal Wedding Are #MomGoals
Kate Middleton, the Duchess of Cambridge, is good at everything, from what I can see. She's an amazing photographer, as anyone who has ever seen portraits of her kids can attest. She has preternaturally shiny hair which isn't a talent per se but is still damn impressive. And she's one hell of a kid-wrangler. Especially at fancy occasions, and even after she's just given birth less than one month earlier. These photos of Kate Middleton wrangling the kids at the royal wedding is every mom at every wedding ever, just with a significantly bigger audience.
There was some concern on social media in the moments before the Duchess of Cambridge arrived at St. George's Chapel in Windsor Castle. People were worried that Kate Middleton might not be coming to the wedding of her brother-in-law Prince Harry and American actress Meghan Markle. She did recently have her third baby, after all; little Prince Louis was born less than a month ago on April 23. While it would seem weird for her not to have been at the wedding, I also think people would have understood on some level. Indeed, there was almost a level of perverse joy in imagining all the things Kate Middleton could be doing instead of attending the royal wedding.
But it seems nothing was going to keep Kate Middleton away from the big wedding. Especially since her husband, Prince William, Duke of Cambridge, was the best man at the wedding and her two older children, 4-year-old Prince George and 3-year-old Princess Charlotte, were page boy and bridesmaid, respectively.
And you guys know what that means... it's time for Kate Middleton, professional kid wrangler, to be called into action.
And Kate Middleton wasn't just expected to wrangle her own kids; it looks like she was stepping in to give a hand with the entire bridal party contingent of four page boys and six bridesmaids.
It sort of looked like she was loving every minute of it.
The Duchess of Cambridge wasn't alone trying to take on the many children in the bridal party, though. She was joined by another mom-of-three, Markle's best friend Jessica Mulroney. The Canadian wedding planner and wife to television personality Ben Mulroney was on hand to wrangle her own three kids, 4-year-old daughter Ivy and 7-year-old twin sons Brian and John.
And not for nothing, she was doing it in killer heels. So much respect. As a Canadian myself, I can only hope that Mulroney becomes friends with Kate Middleton and live vicariously through her.
This episode of kid-wrangling probably felt like small potatoes for Kate Middleton, because once the kids were in the church it looked like she was off duty and able to sit and watch the emotional, beautiful ceremony. And it gave us all a chance to check out her amazing fascinator (I'm hoping fascinators become a daily thing now).
Middleton's little bit of kid-wrangling did not look like it was quite the serious affair that she experienced last May at her sister Pippa Matthews's wedding, when Prince George and Princess Charlotte were page boy and bridesmaid. Back then, those two cuties were having something of a moment.
This time around, little Princess Charlotte was especially ready to charm the crowd with her teeny, tiny royal wave, making life a little easier on her mom.
Kate Middleton will hopefully get more of a hand after the wedding from Prince William, who always seems like a real hands-on dad. I want her to get a little break from the kid wrangling, maybe even have a drink and a dance with a Spice Girl or something.
She'll be back to wrangle kids another day, I'm sure.