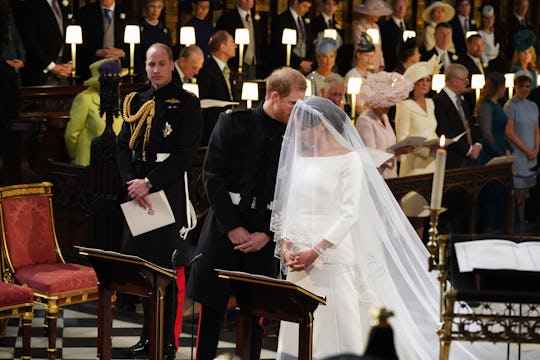 WPA Pool/Getty Images Entertainment/Getty Images
You *Need* To See These Photos Of Meghan Markle's Wedding Dress
Much has been made of the idea that actress Meghan Markle would understand how to "perform" the role of duchess, following her marriage into Britain's royal family, better than anyone else before her. And indeed, photos of Meghan Markle's wedding dress prove that the American actress understands precisely the mix of impact, grace, and style the public has come to expect of a royal. Photos of the dress also promise to become some of the most "pinned" images in wedding #inspo history.
Questions like who would walk Markle down the aisle and whether her father would be in attendance had kept dress speculation to a low murmur in the lead-up to the wedding, and Markle's actual wedding dress is even better than anything anyone could have imagined. When Markle first left her hotel to travel to St. George's Chapel, spectators could immediately tell that the dress was something to be reveled in. With longer sleeves, a full veil and what was speculated as the Spencer House tiara worn by Diana, Princess of Wales, it was clear that Markle's dress was a classic beauty.
But, don't just take my word for it, check out all of the photos of the gown, which was designed by Clare Waight Keller, of Givenchy.
Obviously, the bride looked flawless, and viewers weren't too surprised when they saw that her dress was a bit lower on pomp than the dress Kate Middleton wore back in 2011, but Markle's dress was still modest and traditional in a sense. What's more, it seems as though many of the predictions surrounding Markle's wedding dress were actually pretty wrong. Many suspected haute couturiers Ralph & Russo or close friend and Brit, Stella McCartney to be behind the dress, but that was clearly not the case. As Harper's Bazaar reported, "Waight Keller, who is British and known for her feminine, romantic asthetic, would nonetheless be a controversial choice because Givenchy is a French fashion house." But clearly, Markle isn't afraid to make a statement.
Just a few days before the royal wedding, Brides magazine gathered up a variety of sketches from several designers imagining what Markle's dress would look like. "Her style is very sleek, a lot of twisted bandeau, clean cuts, and knee-length hems, so I imagined Meghan's added freshness to the royal wedding dress," said French designer Rime Arodaky of his design. And now, it seems as though Arodaky was pretty spot on in his guess of Markle's wedding dress style.
Markle's dress made perfect sense for her. In a 2016 interview with Glamour, Markle talked about her Suits' character's wedding dress and how she chose it. Additionally, Markle spoke about her own dream wedding dress:
I have the luxury of wearing beautiful pieces of clothing every day for work, so my personal style — wedding or not — is very pared down and relaxed. Classic and simple is the name of the game, perhaps with a modern twist.
I personally prefer wedding dresses that are whimsical or subtly romantic. Delphine Manivet and Christos Costarellos are faves of mine for their uniqueness and beauty. And I will always be a fan of Ellie Saab. J. Mendel is spectacular as well, especially for more structural designs.
Back in 2011, Alexander McQueen was behind Middleton's iconic wedding dress, and the long-sleeve, classic style quickly became one of the hottest wedding trends. Now that Markle's dress has finally been revealed, it's likely that her gown will also quickly become one of the most coveted bridal styles of the 2018 and 2019 wedding season.
Clearly, Markle's actual wedding dress is simply perfect for her. And since Waight Keller was behind it, it makes even more sense that the bride would look as flawless as she did.