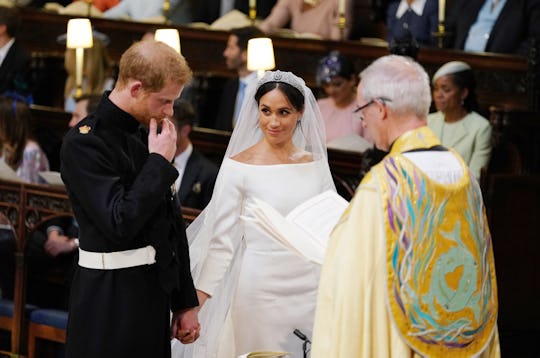 WPA Pool/Getty Images Entertainment/Getty Images
Photos Of Prince Harry's Face As Meghan Markle Walked Down The Aisle Will Make You Ugly-Cry
If you didn't cry a little when Meghan Markle walked down the aisle at St. George's Chapel in Windsor Castle on Saturday, I'm sorry about your cold, dead heart. It was such an emotional day, with all the pomp and circumstance and tiny fancy children wandering around. But the one moment that stole the show? Check out these photos of Prince Harry's face as Meghan Markle walked down the aisle. And prepare to seriously bawl.
Prince Harry, the Duke of Sussex, has always struck me as a real softy. You know, one of those guys who wears his heart on his sleeve, whose charity work tends to be very hands-on, and who plays with little kids in the dirt because he's just a sweetheart. But to see him watch the woman he loves, American actress and philanthropist Meghan Markle, the Duchess of Sussex, walk down the aisle, was to actually see love. Not to get all mushy myself or anything, but he simply looked so moved. I mean, he might have actually been crying, to be honest. There was such true, raw emotion on his face as his father, Prince Charles, walked Markle down the aisle. I know Prince Harry and I aren't friends or acquaintances or anything, but how could you not be moved when a guy watches the woman he loves walk down the aisle with this look on his face?
As if I wasn't emotional enough watching Prince Harry watch Meghan Markle walk down the aisle, when he lifted her veil things got even more messy in my house. When he saw his bride, Prince Harry whispered, "You look amazing. I'm so lucky." FEELINGS.
A wedding is always an emotional time, but there are several reasons why Prince Harry and Meghan Markle's wedding was especially emotional. First of all, there was all that difficult drama from earlier in the week, when Meghan Markle's father withdrew from his daughter's wedding (where he was expected to walk her down the aisle) at the last minute. Thomas Markle, Meghan's father, was reportedly in the hospital having heart surgery, and she was understandably very concerned about him. The couple were reportedly leaning on each other throughout the week for emotional support.
Then there's the fact that Prince Harry's own beloved mom, Princess Diana, couldn't be there to watch him get married. She was killed in a car crash in Paris in 1997. Prince Harry was just 12 years old when his mother died, and his older brother (as well as best man at his wedding) was only 15. The two men have been open about struggling with the loss for years after, and Prince Harry would most certainly be thinking of his mom, who was the same age as Meghan Markle when she died at 36, on such a day.
Beyond all of those extenuating circumstances is the very clear, very sweet, love the couple show each other. There are plenty of cynical people out there who might have terrible things to say about the wedding of Prince Harry and Meghan Markle, not to mention their love story. But here is what I see: two people who don't care what anyone thinks about their love for each other. A couple who have found each other, who understand each other, and who want to spend their lives doing good things for people.
And it's all in Harry's face when he looks at his new bride, the Duchess of Sussex. Or better yet, when they look at each other.
The only slight problem, of course, is coming to terms with this sad possibility; what if no one ever looks at me the way Prince Harry looks at Meghan Markle?
Don't mind me; it's early in the morning, and I'm emotional. All this royal wedding stuff is getting me worked up.
Prince Harry would totally understand.