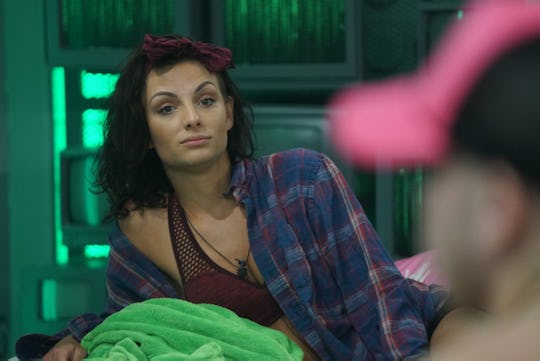 Sonja Flemming/CBS
Rachel Swindle'rs Job Outside Of 'Big Brother' Could Help Her Game
Big Brother 20 has so many strong personalities this season that in some cases, some of the other houseguests' scenes or antics rarely make it to the episodes. If you're a live feed watcher, then you know much more about Scottie, Angela, and Rachel. But for strictly show watchers, they probably still have a lot of questions. Like, what does Rachel Swindler from Big Brother do for a living? She's a natural performer and, like I said, if you watch the live feeds, you may have seen some of that spunk come through.
Outside of the Big Brother house, Rachel is actually a Las Vegas entertainer, to be more accurate. She's performed in a variety of different live shows involving both singing and dancing. And, as she said on the live feeds, she was once a cheerleader as well. She may not have won any intense physical competitions so far this season, but what she does for a living, Rachel definitely has what it takes to win some in the future.
On the season premiere of Big Brother 20, Rachel was shown in full showgirl costume and that is what she does, to an extent. She also performs as a singer, and even took part in a Las Vegas charity event 2017 when she sang on-stage.
In Rachel's pre-Big Brother interview with Ross Mathews, she told him that not only can she sing and dance, but she can also act. In fact, one dedicated Redditor came across an indie horror film she starred in back in 2011. It's your typical low budget horror movie, but from the short trailer, it looks like Rachel did pretty well in it. I highly doubt that Rachel is using her acting abilities to trick any of the other houseguests into aligning with her, but it could come in handy later this season.
She did say in her pre-show interview that she planned to use her people skills from work to take her far. "I'm planning on having a really good social game. I'm a very social person," she said. "I'm able to connect a lot with a lot of different types of people. It's in my nature, it's my job. I also do a lot of brand ambassador work where I'm interacting with a lot of different people all the time." I'd be surprised if she didn't use her people skills to garner a solid social game and so far, she's been relatively safe this season.
Rachel is even one of the few (or possibly the only) houseguests who knows about Bayleigh's power app. I don't know how that's going to serve her game, but it proves that she's someone other houseguests can trust and feel comfortable talking to. If you can't win any physical competitions to get into positions of power, then the next best thing is to have a social game that's on point. And thanks in part to her what she does for a living, Rachel's social game has kept her fairly safe so far.
Rachel's career outside of Big Brother is all about interacting with people, audiences, and sometimes fans. She's a Las Vegas performer and entertainer, so she's likely met people from all walks of life. Going into the Big Brother house was probably a natural opportunity for her to take, even if it did mean being sequestered from work for a few long months. But as a fan of the show already, she likely knew what she was getting herself into. And even though she hasn't been dramatic or outlandish enough to get her own segments during the episodes on TV, Rachel has plenty of charm to take her far this season.